500GPM Mud Recycling System For India ?>
500GPM Mud Recycling System For India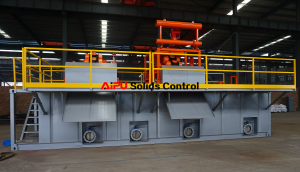 AIPU Solids Control finished building a 500GPM mud recycling system for a India client last week and waiting for final quality inspection this week. The 500GPM mud recycling system is designed and built for trenchless drilling for Vermeer drilling rig. It is a 3 phase mud recycling system with shale shaker, desander and desilter with a 9 meters storage mud tank. The India client bought 1 set of Vermeer HDD drilling rig early of this year and finally design purchased of a set of drilling mud recycling system in October after wined a project.
500GPM Mud Recycling System Specification
Mud tank size 9000 x 2200 x 1800mm with 15 cubic meters mud storage capacity. The tank skid is 250mm H beam with 1500mm tank wall. It is self cleaned design with 5 degree tank bottom to clean gate. Walk way and hand rail can be folded on tank side for fast moving.
4 panels linear motion shale shaker for first phase mud recycling with 40 to 100 mesh shaker screen. Composite material shaker screen design to extend screen working life. The G force is adjustable from 6 to 7.5G depending on mud conditions.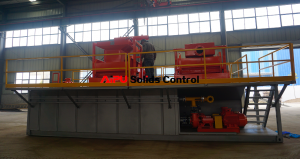 4 panels linear motion bottom shaker with deander and desilter cyclone for second and third phase mud recycling. The desander cyclone will separate 50 – 70 micron solids out and desilter cyclone separate 20 – 30 micron solids out. Both solids out of desander and desilter will drop onto bottom shaker for drying solids and recycle fluids application.
2 sets of centrifugal pump will be able suction from 1#, 2# mud tank and feed into desander and desilter separately at pressure 0.25 to 0.4 Mpa. Both pump will be able to suction clean mud from 3# compartment with spare outlet as a transfer pump.
1 set of mud agitator sit on top of tank to agitate mud in 3# mud tank.