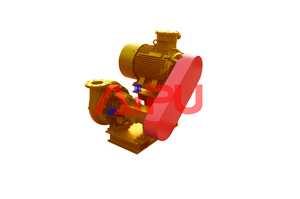 Why shear pump is better than normal pump? ?>
Why shear pump is better than normal pump?
Shear pump is mainly used in oil field drilling. It can mix effectively and hydrate completely the material added in the drilling fluid, save the mud material, reduce the time of configuration, and provide the high performance mud for the well drilling.
The advantage of shear pump
Shear pump which manufactured with special machinery seal technology has very long service life and improved operational reliability.
Its impeller is specially designed to have a wider flow pass and smooth vanes, with larger flow area and smooth fluid pass, making the shear pump efficiency and energy-saving 10% higher than similar products.
The shear pump has adopted a shell thicker than normal one, with rational pass and less turbulence. Impeller and shell are made of high wear resistant cast irons, with service life longer than other products by 50%;
The shear pump shaft has high strength that can bear certain load, reducing shafts deflection and extending seals service life. The shaft is lubricated with lubricants and lubricating grease and the oil seal is made of special structure and materials, suitable for high and low temperatures and complex environment. Front opening structure is convenient to install, repair and maintain.
Aipu shear pump
Aipu JQB serial shear pump is a special pump for solid control drilling fluid additives, with engine powers of 55kw and 45kw, and the capacity is 120m3/h and 100m3/h. In addition, we can also produce other model according to you special requirement. Aipu solids control equipment has high performance and good quality, especially in bad working conditions, our shear pump with special materials of the critical components can still work  efficiently and prolong their service life.
Aipu solids control sincerely to welcome friends from all over the world to our factory to visit and discuss business. Please contact us for more shear pump or other solids control equipment information at any time.