Shale Shaker Screen Delivery To Middle East ?>
Shale Shaker Screen Delivery To Middle East
Shale Shaker Screen Delivery To Middle East
AIPU deliveried a larger quantity of shale shaker screen to middle east last week for hook strip screen and frame type shaker screen. The total quantity about 900 pieces packed in carton box and wooden box with plastic wrap for sea worthy. All shale shaker screen is manufactured according to API RP 13C regulation with mesh between API 50 and API 270 to suit different drilling conditions wire mesh. All the screen panels will be arrived to middle east in 30 days.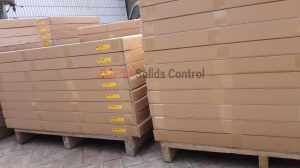 Why Choose AIPU Shale Shaker Screen ?
AIPU is a manufacturer of shaker screen, screen quality and after sales service can be assured as per API RP 13C regulation
AIPU build shale shaker which allow us understand shaker screen better, and we understand what will happen on different screen problems will bring.
AIPU sold shaker screen to all over the world more than 30 countries with good screen feed back and coninous orders to assure shaker working performance and quality.
AIPU supply replacement screen for well known shale shaker which enable us more proffessional on shale shaker screen and different kind of shaker on advantagement and disadvantagement.
High cost effective for mesh screen compared other manufacturers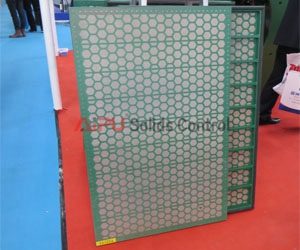 Does AIPU Supply Replacement Screen For Other Brand?
The answer is surely yes as AIPU is a professional manufacturer of shale shaker screen as per API RP 13C regulation and standard. AIPU supply replacement hook strip screen ,steel frame screen. Other than steel material screen, AIPU build composite material screen for longer working life and better performance. The composite material screen is mainly for frame wedge type screen, not for hook strip screen this stage. Please click AIPU website for further more information of shaker screen or send us email on what exactly you need for help.
Listed famous brand screens are replacement not original ones produced by concerned manufacturer. All information is supplied solely for informational purposed and shaanxi aipu makes no guarantees or warranties,either expressed or implied,with respect to the accuracy and use of this data.All products warranties and guarantees shall be governed by the Standard Terms of Sale.Nothing in this page is legal advice or is a substitute for competent legal advice.Also forgive us for inconvenient updating you on our future version page with revision.
Mongoose™,ALS™,BEM™ are trademarks of M-I SWACO, a  Schlumberger company. NOV VSM300™, Cobra™ and King Cobra™, LCM™ are trademarks of varco LP Inc. KTL-48™,KPT, Kem-Tron™ are trade marks of KEMTRON Technolog. Derrick™, FLC500™, FLC2000™, PMD™, PWP™, Dual pool, Hyper pool are marks of Derrick corporation