Mud Cleaning Unit For HDD Drilling Site ?>
Mud Cleaning Unit For HDD Drilling Site
HDD drilling site will require mud cleaning unit for recycling drilling mud out of drill hole. AIPU Solids Control build HDD mud cleaning unit with different model options depending on drilling site requirement. The mud cleaning unit can be a economy design and portable by a small truck or trailer. The portable mud cleaning unit is very important for small HDD drilling rig and lower budget drilling activities. AIPU get 3 main models for options for 50, 100, 120 GPM mud cleaning capacity. The tank is design without clean mud tank storage capacity for save space and cost.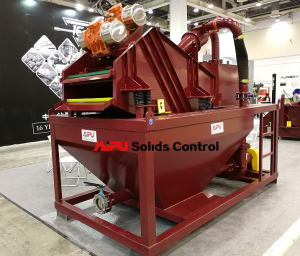 AIPU Portable Mud Cleaning Unit Main Specification
The mud cleaning capacity with 3 options for 250GPM, 500GPM and 1000GPM from drill hole or a submersible slurry pump.
There is one set of double deck shale shaker, the bottom deck for coarse mesh screen for first phase cleaning with designed mud flow capacity. The shaker screen can be PU material or steel long serve type for longer working lift, reduce shaker screen replacement and enlarger mud flow pass by capacity with bigger screen hole.
There is one set of centrifugal pump sit on the mud cleaning unit skid to suction mud from sand trap and feed mud into desander or desilter cyclones. The cyclone fit on the same double deck shaker and top deck install fine mesh screen to dry solids out of cyclone nozzle.
The cleaned mud after desander or desilter cyclone will over flow to a very small box with pipelines to allow mud flow into another clean mud tank for active mud. The box is very small , if the small box full, mud will over flow back to sand trap again. There are liquid indication and auto control to start or stop pumps because of the small tank.
The stand trap will design an over flow pipe into clean mud tank because mud cleaning unit is very small and will be full soon.