Double Deck Shale Shaker For Oil Sludge ?>
Double Deck Shale Shaker For Oil Sludge
AIPU deliveried 1 set of double deck shale shaker for oil sludge treatment to job site last week. The double deck shale shaker start building in early October after an oil show meeting with client. The client work for oil sludge treatment and the shaker designed for first phase mechanical separation. The screen panel choose sieve type panel for longer and better performance. There are different working solution for oil sludge and depending on budget and treating result you need. Normally the oil sludge need to be heated for easy and better separation by reduce it's viscosity.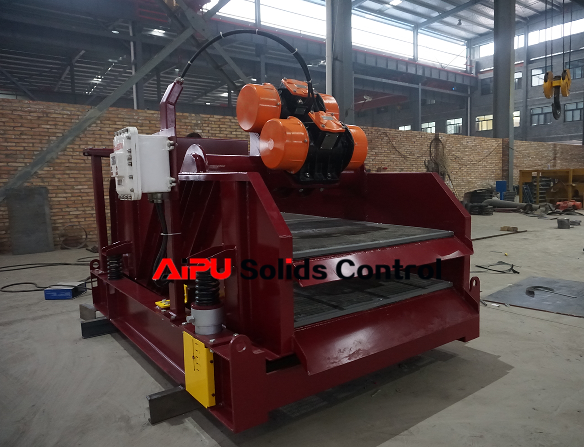 Double Deck Shale Shaker Main Features
Linear motion shale shaker with 2 sets of Martin vibrator motor to reach 7.0G force. The 2 sets of vibrating motor will balance horizontal strengths and the shaker deck vibrating linear motion finally.
Sieve type screen panel will help screen working longer time and allow some of the solids particles pass by, the final result is oil sludge solids particles get a dryer separation. The top deck use a coarse mesh for first phase separation, bottom deck use a finer mesh for second phase separation.
3 layers of anti-corrosive painting for a whole shaker. All painting procedure are inside of room for paint protection to keep sure good service and painting protection.
Wedge type shaker screen for fast lock and screen panel replacement. The wedge is one of the shaker spare parts which can be ordered from us.
Shaker deck angle adjustment can be from -1 to 5 degree depending on oil slurry condition. The working principle is 2 panels oil sludge fluids content and last deck for dry solids content. If fluids less than 2panels, then adjust angle lower, if fluids more than 2 panels, then adjust angle high.
Desander or desilter cyclone can be installed depending on requirement.