Desander Unit For Piling ?>
Desander Unit For Piling
Desander unit for piling is a mud recycling unit for piling site. It is contains of double or single deck shale shaker and cyclone for drilling mud recycling. The desander unit normally high mud flow capacity with very compact small footprint for fast moving and cost effective. AIPU Solids Control design desander unit to suit piling site requirement and minimum it's cost after satisfied site technical requirement. The double deck shale shaker is popularly used for desander unit to minimum footprint.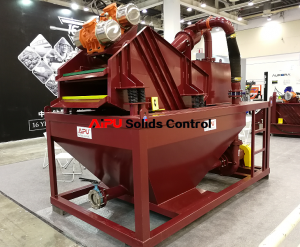 Desander Unit Configuration
Double deck shale shaker sit on a small mud tank. The bottom deck connect with a mud inlet pipe to allow mud from piling hole goes into bottom deck directly for first phase cleaning. The screen size for bottom deck will choose PU material or sieve type screen to maximum it's mud flow capacity and reduce shaker screen damage by big stones. The top deck of shaker will be used to dry solids out of desander or desilter cyclones. The screen mesh for top deck will be much finer to 100 mesh or depending on piling requirement.
A set of centrifugal pump will sit on the small tank skid bellowing double deck shale shaker, the pump will be sucking mud from sand trap and delivery treated mud after bottom deck into desander or desilter cyclone for second phase cleaning.
A very compact design mud tank with all necessary pipeline arrangement.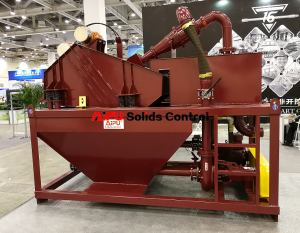 The desander unit main specification will be decided by mud flow capacity, the mud tank for desander unit normally without mud storage and mixing application, so the mud flow capacity will be highly confirm a whole design. The double deck shaker model will be small deck or 4 panels deck depending on mud flow capacity requirement. Please contact AIPU Solids Control for more information.