Drilling Cuttings Box Delivery To Jobsite ?>
Drilling Cuttings Box Delivery To Jobsite
AIPU built a hundred of drilling cuttings box for drilling jobsite beside solids control system and delivery to client end of this week for working. The cuttings box mainly mechanical but still some details design to meet drilling site requirement, especially for convenient of operation. The cuttings box ordered in this May and manufacture time takes 45 days from starting to delivery.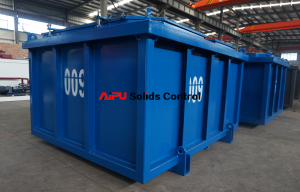 Main Features of AIPU drilling cuttings box
The cutting box storage capacity is 1.5 cubic meters for drilling cuttings. The size of cuttings box can be customized depending on requirement.
There are fork lift space for convenient moving and transport.
The cover on top with suitable seals to avoid leackage. There are hand control for cuttings box cover for convenient open and lock.
V bottom for easy discharge of cuttings and easy cleaning.
Painting color is customized for any color with correct RAL no.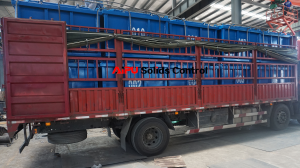 Where Cuttings Box will be fit?
Cuttings box will be collect cuttings from drilling cuttings separate equipments like shale shaker, desander, desilter, mud cleaner, decanter centrifuge, High G dryer shaker or vertical cuttings dryer. Each equipments will need 1 or 2 cuttings box for collecting cuttings and delivery to truck or somewhere for cuttings treatment.
To save labor cost and easier operation management, many jobsite use screw auger instead of cuttings box. The screw auger will delivery drilling cuttings by collecting from shakers or other mud equipment to cuttings truck or storage tank. The screw auger will help save a lot labor cost and operating time by auto moving and more electrical power.