Dual Motion Shale Shaker ?>
Dual Motion Shale Shaker
Dual motion shale shaker is and advanced model compared of linear motion shale shaker. The dual motion shaker vibrating with linear motion and elliptical motion both available, it can be changed on control panel switch. AIPU dual motion shale shaker installed 3 motors to reach both motion application. Other than dual motion shaker, AIPU Solids Control supply shakers in linear motion only also cause it's steady and cost effective performance. Based on shale shaker model, mud cleaner or desander & desilter can be supplied with different bottom shaker.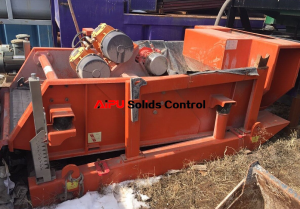 AIPU Dual Motion Shale Shaker Main Specification
Mud flow capacity reaches to 150 cubic meters per hour for first phase cleaning before desander. The same size linear motion shaker normally reaches 120 cubic meters per hour maximum.
2 big motor work for linear motion, 1 big motor and 1 small motor work together for elliptical motion. The control panel will fit wire connection to control which motor working.
Frame type shaker screen install for fast moving, screen size 585mm x 1165mm which is popular and many screen manufacturer can supply mature screen with steel material and composite material both.
Control panel and electrical motor can be supplied with different standard like IECEX, ATEX, UL, DGMS, etc.
Shaker deck material Q345 with heat treatment for steady working while high G force and continuously vibrating. Strength welding on both side of shale shaker to help shaker deck better strength.
Mechanical shaker deck adjust for steady working, deck angle can be adjust from -1° to 5° depending on drilling mud conditions. A suitable deck angle will help to reach a ideal solution of drilling cuttings dryness.
Shaker screen can be composite material for better performance and longer working life. Screen size is a very popular size in all screen manufacturer, it's easy to find shaker screen stock and cost effective.