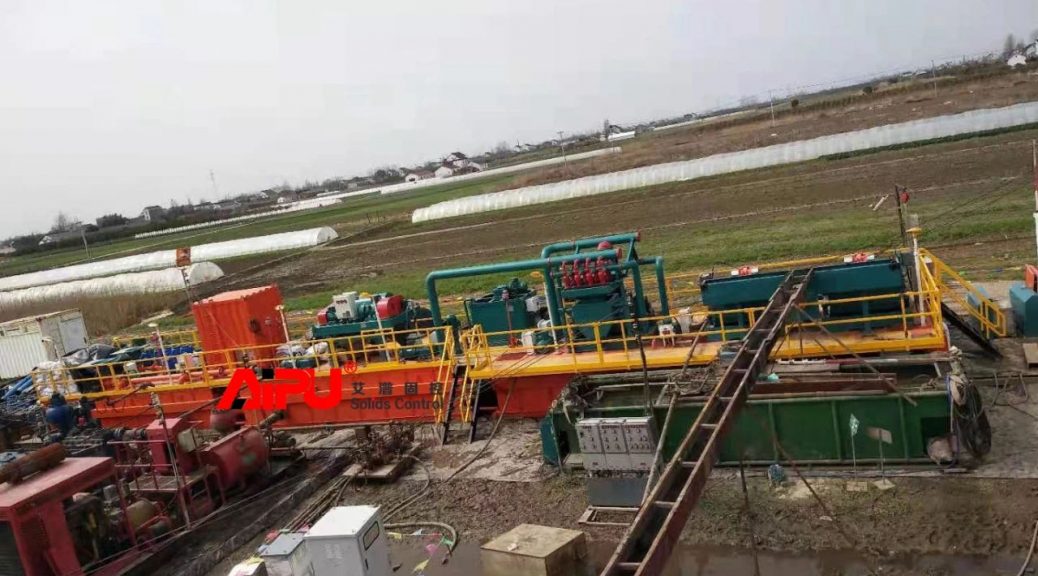 ZJ30 rig solids control system at SINOPEC site ?>
ZJ30 rig solids control system at SINOPEC site
ZJ30 rig solids control system arrived at SINOPEC site about one month ago.  Now we have assisted our user finish the commissioning. They are very happy with our products and services quality.
Main information of this system
This system is used in south China at SINOPEC drilling site. The system for well drilling deeps about 3000m. Including 2 sets of shale shaker, 1 set of mud cleaner and 1 set of mud decanter centrifuge. The design flow rate is 180m³/h.
Shale shaker  is the Hunter-MG3, 2 separated single shaker set in parallel.  After shale shakers, there is mud cleaner with 12″ and 4″ hydrocyclones, while the bottom shaker is still Hunter-MG3. Decanter centrifuge is APLW450X1000 middle speed. To process drilling fluids for ZJ30 rig its performance is sufficient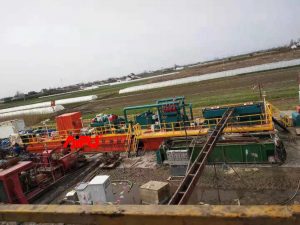 There are 4 tanks and 1 dog room. We finished this system in 45 days. You may find the different vibration motors, ye, considering client's urgent demand and preference we fit different brand motors from Oli and Martin.
Now, the system is under operation and client is very happy with all of the system and AIPU
How to maintain ZJ30 rig solids control system?
Maintain solids control system should according to user manual and instructions from suppliers. For mud tanks, we need to pay more attention to the lump or caking on the tank bottom. We need to clean the mud tank in time when drilling is at end.
For shale shakers, please pay attention to shaker motor lubrication, screens repair or replacement. Also the bed sealing material, springs, etc. For the mud cleaner, pay attention to the cones and nozzle, couplings. For the centrifuge, please pay much attention to any lock because of material jam or dried materials.
Furthermore, the fittings and pipelines as well as the accessories should be under careful inspection before every shift.
Get solids control system for other drilling (rig)
There are different configuration, including ZJ10, ZJ20, ZJ30, to ZJ90. The difference including drilling rig size, drilling depth, the equipment numbers, quantity and necessary mould.
Please contact Aipu solids control for more detail information. You will get the optimal proposal at the truly reasonable cost.