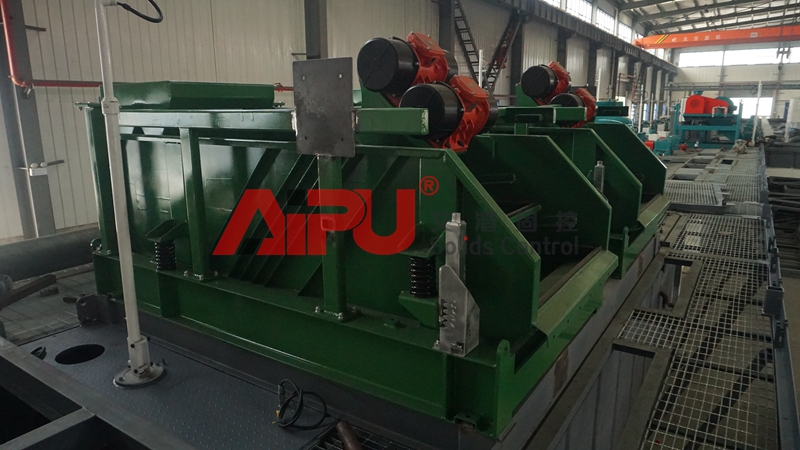 Workover rig mud system configuration reference ?>
Workover rig mud system configuration reference
Workover rig mud system is similar to oil drilling mud system. From the shale shaker to the desilter or mud cleaner. Pleased to share some proposal for mud system of workover rig.
Mud system for workover rig
Usually, mud systems for workover rigs including shale shaker, mud cleaner, centrifugal pumps, mixing pump, mud agitators, etc. The main equipment is similar to the oil well drilling solids control system. But usually, there is no decanter centrifuge for workover rig solids control.
We configure a solids control system for the workover rig according to the mud pump flow rate. Or according to the essential information of the workover rig model. Such as XJ250, 350, 450, 600, 750, XJ90, etc. The numbers mean the power request of the whole workover rig.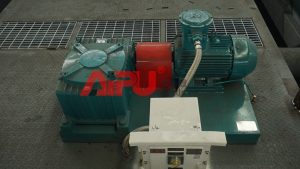 For example, we configure a complete system including dual tandem shale shakers, degasser, mud hopper pump, centrifugal feeding pumps, trip pumps, mud agitator, and so on. For this workover rig mud system, there are 3 mud tanks in total.
The general power of the whole mud system is 277.78kW. This system is an economical and practical design. There are also other designs for other models of workover rigs. Such as 2 sets of dual tandem shakers, 1 set of degasser, 1 set of desander with slid chute instead of bottom shaker, 1 set of desilter, 1 set of dual mud hopper and feeding pumps, trip pump, mud agitators, mud tanks. The total power of this system is 313.26. The difference between them is the flow rate and configuration of equipment numbers.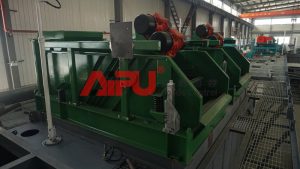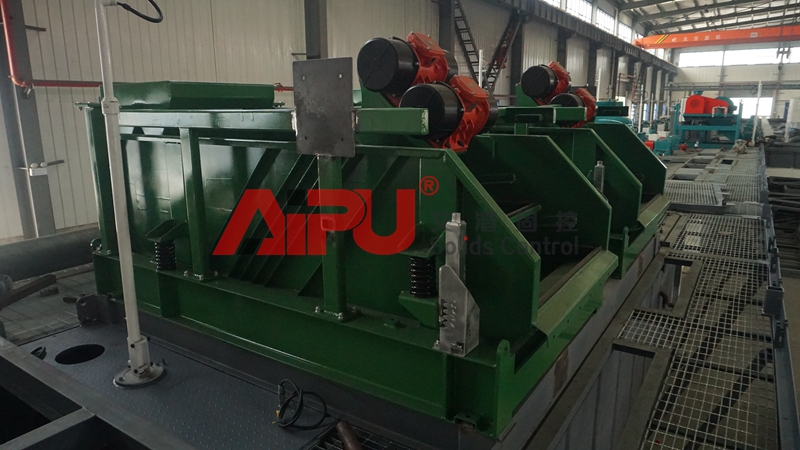 Difference between mud system for development rig and workover rig
You may have found, workover rig mud systems don't include the centrifuge. And even no desilter. That means the separation and processing is not as strict or high requirement as development rig solids control.
If we propose a development rig, there are shale shakers, degassers, mud cleaner (separated desander and desilter), decanting centrifuge, mud mixing pumps, centrifugal pumps, mud agitators, mud tanks, and so on. And to get a great result, there are even 2~3 sets of linear motion shakers and 2 sets of centrifuge.
In short, the normal solids control system for oil well drilling is more comprehensive. From the coarse particles, separation to the fine clay material removes, even for the barite recovery. Considering the integrative and versatile functions, we need sufficient mud tanks as a proper platform, too.
So, usually configure the processing tank, active tank,  trip tank, mixing tank, pill tank, and reserve tank. According to different systems flow rate, the number of the tank is different. And the layout varies from each other, too. Even for the same function, we'll provide different configurations.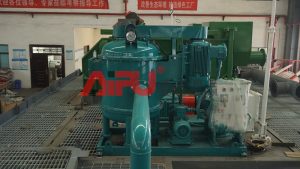 Cost of workover rig solids control system from AIPU
This is depending on many different factors. Such as the flow rate request, the special requirements on certificates, the special configuration on some equipment or the whole system. If no special requirements, price of above listed 2 systems is around USD260000-280000. They are economical and competitive. The important thing is, they are high cost-effective.
Please feel free to contact us for more detail you are interested in. No matter for XJ workover rigs, or for the ZJ drilling rigs. No matter for XJ450 or XJ750, no matter for ZJ40 or ZJ90. You will find that, Aipu solids control system will give you the optimal proposal.
Leave comments below or contact us now. Get the offer for free.