Vertical Mud Agitator For Mud Tank ?>
Vertical Mud Agitator For Mud Tank
AIPU is one of the leading suppliers for vertical mud agitator as well as horizontal mud agitator and a series solids control equipment for oilfield drilling activities. Compared horizontal mud agitator, the vertical agitator is good on save power, larger agitating torque by same size drive motor and minimum footprint. The main motor installation type is different, but the main different is gear box.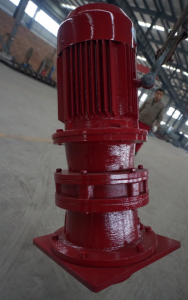 Vertical Mud Agitator Main Component
1.       Electrical motor with suitable power depending on gear box size, shaft and impeller size. The electrical motor can be different explosion proof standard depending on drilling site requirement.
2.       Gear box to reduce electrical motor speed to 72 or 60 RPM and make agitator shaft rotating at this speed with impeller to reach agitating applications. It is bevel gear type instead of worm and gear type with higher efficiency.
3.       Shaft and impeller. The shaft can be connected onto mud tank bottom for steady rotating. The impeller can be single or double depending on agitating requirement.
4.       Electrical control panel normally won't quote together with a mud agitator. Each agitator will require a control panel to start or shut off the electrical motor with protection system.
5.       Before order, please confirm motor power, agitator type, shaft length, impeller diameter and quantity. All above info are customized depending on requirement.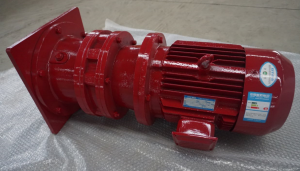 Other than vertical mud agitator, AIPU Solids Control build horizontal mud agitator, mud gun, mud tank, centrifugal pump as well. The mud gun works for mud agitating application too which is installed on mud tank corner to stop solids build up at tank corner. Normally where mud agitator installed, the mud gun will be required at tank corner for better performance. Please contact AIPU Solids Control freely for more information or