Vertical Centrifugal Degasser Supplier ?>
Vertical Centrifugal Degasser Supplier
Vertical centrifugal degasser has another name atmospheric degasser for high effective performance to remove gas from drilling mud. The degasser will be installed on top of tank after shale shaker but before desander and desilter cyclone. Before drill mud goes into centrifugal pump which is working to feed mud into cyclone, the mud will be treated by degasser to protect centrifugal pump. AIPU is able to supply vertical centrifugal degasser or vacuum degasser both as per buyer's indication. Vertical centrifugal degasser is getting more and more popular because it's high effective performance, limit footprint and cost effective.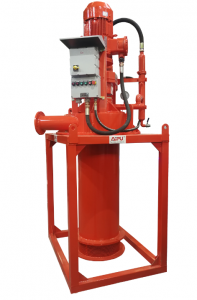 Vertical Centrifugal Degasser Features
1.      Degasser model is APLCQ300, AP is short of AIPU, LCQ is the degasser name in Chinese short.
2.      The liquid inlet size is 20 inch size, liquid outlet size is 6 inch and gas outlet size is 2 inch size.
3.      The max liquid through put is 300 cubic meters per hour to match whole mud system treating capacity.
4.      The max gas removed is 30 cubic meters per hour.
5.      The electrical motor and control panel standard will be supplied as per request. IECEX or ATEX explosion proof standard or other standard.
Other than vertical centrifugal degasser, AIPU supply vacuum degasser which is well used on drilling site for self suction without using of centrifugal feeding pump. Please contact us freely for inquiry.