Vacuum Degasser For Sale ?>
Vacuum Degasser For Sale
AIPU Vacuum degasser is well used for solid control mud system to separate gas out of drilling mud. AIPU build vacuum degasser together with other solids control mud equipment for sale. The vacuum degasser is made by tank vessel, main motor, vacuum pump and degasser skid. The degasser will be sit after shale shaker but before desander to protect centreifugal pumps. AIPU built degasser is self suction type, it won't require another centrifuge pump to feed degasser which is good to save power and cost.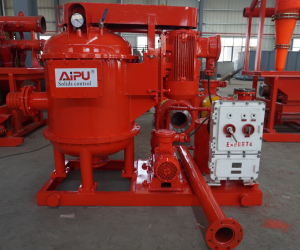 Vacuum Degasser Specification
1.       Main motor selection depending on tank vessel diameter, The main motor can be 15kw, 22kw, 30kw and 37kw for 4 models selection at different mud flow capacity.
2.       A small vacuum pump is installed to supply vacuum power to the tank vessel to separate gas out of drilling mud through a small water tank.
3.       Electrical specification can be customized. All motors and control panel is explosion proof with EX mark: ExdIIBT4 or higher standard. The electricals can be supplied based on different standard like IECEX, ATEX, DGMS or other.
4.       Efficiency of degasser reaches to 95% on gas separation with a compact design and minimum power requirement.
5.       AIPU supply both horizontal self suction degasser or vertical self suction degasser as per request.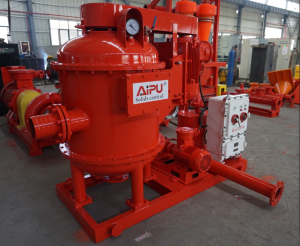 How to Select Vacuum Degasser
1.       Mud Flow capacity. The degasser will sit after shale shaker, the mud flow capacity selection will be same with shakers capacity or mud pump capacity to make all mud treating in a circulation.
2.       Degasser type. AIPU build vertical or horizontal type degasser.
3.       Design of Degasser. The degasser can be self suction without a feed pump requested or degasser that require a feed pump with a venturi installation.
4.       Space of tank. Choose a degasser depending on mud tank space to all there is enough room to install a degasser