Vacuum Degasser for Sale ?>
Vacuum Degasser for Sale
Vacuum degasser is a kind of equipment to separate gas from drilling mud before cyclones to protect centrifugal pumps. The AIPU brand degasser is self suction type instead of US brand degasser which is required a centrifugal pump. The degasser contains a main motor, vacuum pump, tank body, water tank, control panel and public skid. The suction point is under tank body about 1200mm depths. The US brand degasser is non-self section, a venturi jeting installed which is different configuration.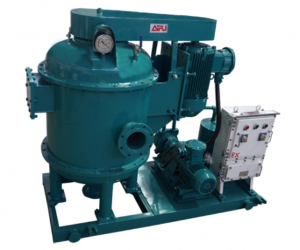 AIPU Vacuum Degasser Features
Explosion proof electrical motors and control panel installed to suit oil & gas field. Varies Ex standard can be supplied as per user's request like IECEX, ATEX, DGMS, UL, etc.
The degasser is set before cyclones, so that the treated mud which will be pumped by a centrifugal pump won't damage or reduce pump efficiency.
AIPU standard color is dark blue, other color can be supplied as per RAL no.. Some user like their own company color to suit user's company brand color.
Suction line depth can be customized depending on tank depth. Normally 1 meters to 2 meters long.
Public skid weld lifting lugs for equipment moving, DNV certified design can be supplied with extra cost.
AIPU supply vacuum degasser and poor boy degasser both for oilfield drilling mud process. If any one interest in AIPU equipment, please contact us freely by visit our website.