Top Centrifugal Pump Suppliers In China ?>
Top Centrifugal Pump Suppliers In China
There are many suppliers for centrifugal pump in China, AIPU is one of the top suppliers who supply centrifugal pump for working in drilling mud process system. AIPU supply different pumps other than centrifugal pump, such as submersible slurry pump for mud pit, screw pump for feeding decanter centrifuge, diesel pump for emergency, trip pump on trip tank, mud mixing pump for mixing tank, charge pump for mud pump, etc.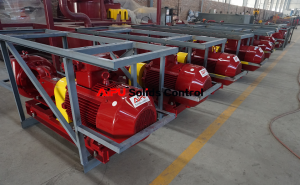 What Centrifugal Pump Work For?
Trip Pump: Trip pump will sit at trip tank to transfer mud from trip tank into drill hole directly in special conditions. The pump normal driven by 11 or 15kw electrical motor with a 4×3 size pump. The mud flow 200 to 250GPM is enough.
Desander & desilter feeding pump: It is normally 8×6 size pump driven by 55kw motor for 1000GPM mud flow for oil and gas drilling, but 6×5 or 5×4 size pump with smaller electrical motor will be used for smaller mud flow capacity for oil & gas drilling, coal bed methan drilling, horizontal directional drilling or water well drilling.
Water pump: The water pump will set on water tank with water line supply to solids control mud tank. A diesel pump may work as standby incase of fire.
Mixing Pump: The mixing pump normally 8×6 size driven by 55kw electrical motor to supply mud to mixing hopper for new mud mixing application.
Charge Pump: 1 or 2 set charge pump will sit beside mud pump for charging application.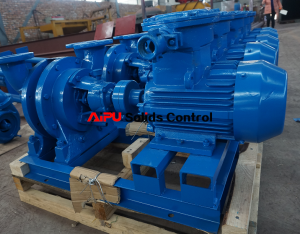 Centrifugal pump is well used in drilling mud process system because it's high efficiency, easy maintenance and cost effective. AIPU Solids build a complete line for drilling mud process system as well as all sizes centrifugal pump. Please contact us freely for inquiry or technical support.