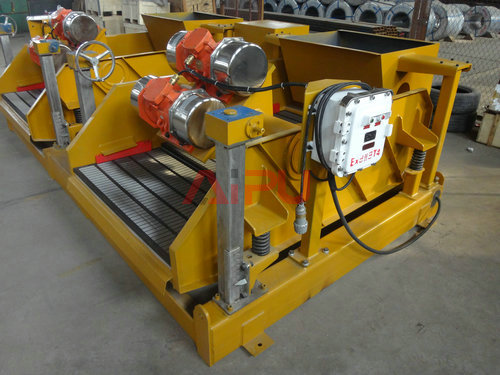 The difference between linear shale shaker and BEM shale shaker ?>
The difference between linear shale shaker and BEM shale shaker
Brief information of shale shaker
Shale shaker as a common machinery equipment is widely used in oilfield drilling, mine, metallurgy, coal, food industry and other departments. The shale shaker is the first stage solids control equipment in drilling mud purification system. It can effectively process large solid particles in drilling mud and make sure better purification for next phase.
With the development of the world oil industry, the research on shale shaker is in depth constant. The types of shale shaker are also changed and the new emerge in an endlessly. According to the difference of the vibration mode. At present, we usually used linear motion and balanced elliptical motion shale shaker. Now we will know the different information between linear motion and balanced elliptical for shale shaker.
Difference between linear motion shaker and BEM shaker
Liner motion shale shaker
According to two vibration motors rotate in the opposite direction to produce excitation power, the screen box trace is straight line. The capacity and the transport rate of linear motion shale shaker are greater than common elliptical screen. But because of acceleration vector only playing in one direction, make the embedded solids particles in shaker screen difficult to drop, and caused blocking screen hole and treating capacity decreased.
Balanced elliptical motion shale shaker.
Screen box is in balanced motion and the motion trace is elliptical. Major Axis of an ellipse and screen box in vertical direction formed angular improve traveling speed for solids particles and the short axis increased screening capacity of drilling fluid.
Comparing with linear motion shale shaker, the balanced elliptical motion shale shaker decreased blocking on screen greatly and has the advantages of with large treatment, better filtration. So the balanced elliptical shale shaker is a new type and an ideal equipment that is adopted advantages of circular and linear motion shale shaker.
Aipu shale shakers superiority
Compact structure, easy to operate and install.
All materials is high quality national standard carbon steel, ensured products quality good.
Adopted famous vibration motors. High vibrating strength better filtration effect
Sand blasting before painting the high anti-corrosive marine paint. Better appearance and better quality.
As a professional machinery manufacture, Aipu machinery provides all high performance solids control equipment for you. If you want to know more details about shale shaker or other products, please feel free to contract us.