Submersible Slurry Pump for Mud Pit ?>
Submersible Slurry Pump for Mud Pit
Submersible slurry pump is well used to install on mud pit for mud transfer. AIPU supplied a large quantity of pump to horizontal directional drilling (HDD) site to install on drill pit and suction mud and feed into shale shaker. The whole pump contains an electrical motor and a submersible pump with suitable cover. The rotating part is well protected to avoid site safety issues. The 12 sets of submersible pumps delivery to Shanghai sea port that ready to delivery to Nava Sheva, India port next week. This is the repeat order after they purchased shale shaker screen in year 2017 with good working performance.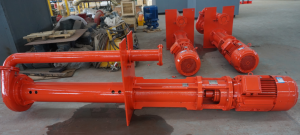 Specification of Submersible Slurry Pump
Mud flow capacity can be 30 cubic meters to 800GPM depending on drilling requirement. The mud flow capacity is depending on motor size and pump size.

It is self suction pump, the suction point is under the bottom of pump with solids protection screen 1cm size hole. The protection screen will avoid solids being suction into pump and damage pump impeller and pump case.

Pump outlet size is made as per mud flow capacity, the outlet will connect soft cable and feeding into shale shaker buffer box inlet for flange connection with proper seal.

Motor installed on top of pump, the motor is waterproof specification. The pump is zero spare parts and impeller last estimate a year.

Steel box or wooden box packing for pump for sea delivery.
Other than submersible slurry pump, AIPU supply other pump like centrifugal pump, screw pump or other pump that used in drilling site. All motors can be customized in different standard like explosion proof or non explosion proof, or different standard of explosion proof like IECEX, ATEX, DGMS or other standard. Please contact AIPU for more information.