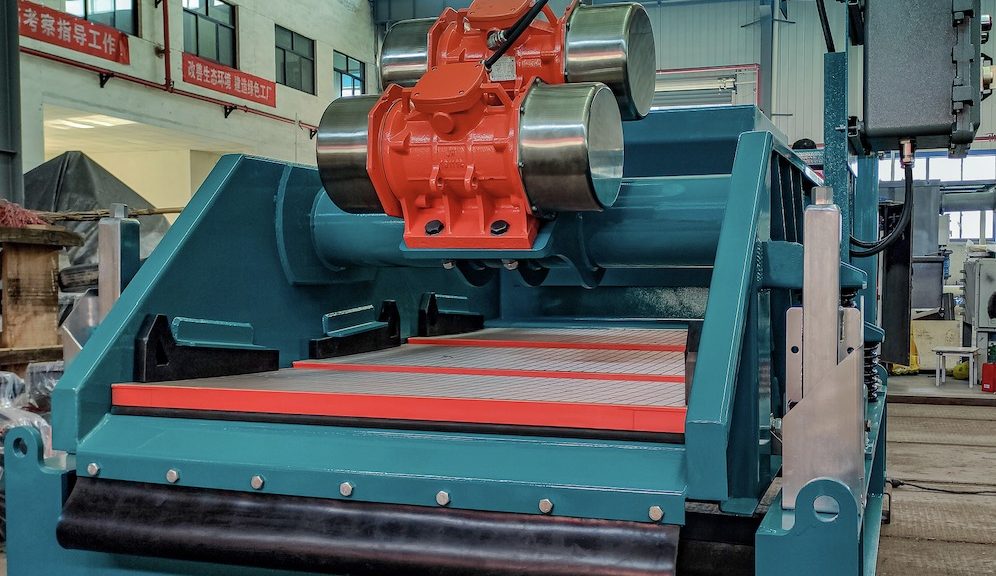 Solids control shale shaker information ?>
Solids control shale shaker information
Solids control shale shaker is the 1st phase equipment in the whole fluids system.
Shale shaker is usually considered as vital equipment for whole well drilling. It helps to remove almost all of the drilling cuttings and harmful particles. So we also call shakers main equipment.
Shakers in different mud systems
Mud system is the integrated unit to process drilling fluids. There are many equipment including but not limited to shale shaker, degasser, mud cleaner, centrifuge decanter, mud agitator, pumps, and tanks. We have talked about various solids control system for different model drilling rigs many times, the system design or configuration is based on oil drilling rig size or the well drilling depth. Such as ZJ30, ZJ70, ZJ90, and so on. That means a larger number of rig requests a higher flow rate of the fluids system. Actually, mud pump sizing is based on rig size, too.
So, the shale shaker in a certain mud system is defined by rig size or the bore depth. For example, the Hunter-MG4 shaker holds a flow rate up to 140m³/h, so when the mud system flow rate is 528GPM we suggest one set of Hunter-MG4 for this system. This shaker is a linear motion shaker. When the system flow rate is 1000GPM for ZJ50 rig or a 5000m well, we suggest 2 sets of Hunter-MG4 shaker or a dual tandem shaker with the flow divider.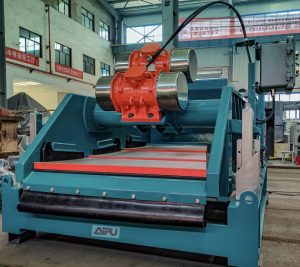 We all know shale shakers including different designs. Such as linear motion, BEM and dual motion shaker. Considering different working condition at different well drilling sites we'll propose different shakers for users. For example, if user use shaker for land drilling mud process, we can use single deck shaker, and the screens are usually flat type. When users use shakers for offshore drilling, we'll design the multiple deck shaker and suggest corrugated screen panel
Detail difference among shakers
According to appearance: That means shaker main structure and design. Presently, there are shakers fit with complete cover shell, the shakers only with splash guard, and shakers without any cover, shell or guard.
If as per screen: There are shakers fit with hook strap panels and screen compressed by wedge blocks
Refer to vibration mode: Linear motion shaker, BEM shaker, and the dual motion shakers are popular types at the market.
As per deck number: There are single deck shaker, double deck and triple deck shaker; if consider the basket number on a common base or skid, there are single separated shaker, dual tandem shaker, triple tandem shaker, and quadruple tandem
Each pattern of shaker hold their strength and features. They are adaptable for different working condition. We take linear motion dual tandem shaker as example. There are 2sets of same shaker on a common base, such design is easy to handle and operate for a whole mud system. It's high-efficiency design and save volume for mud tank. While the multiple-deck shaker is more suitable fore offshore drilling since the limit space and large flow rate.
If we talk about difference of shaker among different brands, it will be the performance and the true cost for whole drilling. Different type of shaker will have different maintenance and spare parts demand. No matter on the instruction of maintenance or the parts quantity and price
Spare parts of solids control shaker
Wearing parts issue is important for users to select equipment or supplier. Firstly, the direct cost is instant effect; secondly, it's a reference or reflect of quality; thirdly, sometimes equipment damage or breakdown costs time and energy affects overall benefits finally.
Do you know what are the main spare parts? To answer this question we need to know the structure or main components of shaker. There are components including motors, shaker basket, base/frame, feeder box, control panel/starter, and so on. Usually, we don't think motors are wearing parts but some clients stock motors as spare ones. So, besides above factor, the first wearing part is the shaker screen. For each single set of shaker, mainly 3-4 panels of screen fit on it. When we prepare spare screens should take the average screen life in consideration and the general working time for a project or a rig.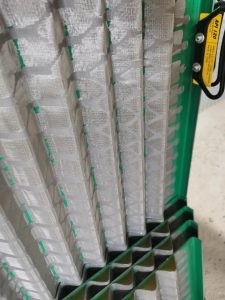 For example, we operate Hunter-D3 shaker and the screen life is about 10 days. We have different drilling projects take about 200 days. So we need to change screens 20 times. Each time we need to install 3 panels of screen, then for one year we need at least 60 panels of shaker screen. Of course, screen life is dependent on many issues and according to actual condition; furthermore, the screen mesh size is dependent on practical status, too. Please referr to our previous post on screen life and quantity calculation
Let's talk about others parts including springs, jack screw-angle adjustment device, wedge blocks. Springs are the components to provide damping effect. We know shaker will vibrate under the motor drive, the springs prevent large rock and give the basket a proper flexibility on vibration. Aipu shakers utilize high quality durable springs on each point of basket corner connected with shaker base. We suggest changing springs every 2 year and do the necessary maintenance during operation.
We can provide Jack-screw assembly and angle adjustment devices separately according to user's demand. Different shakers hold different angle adjustment device. Now we have 2 designs, one is 2 screws at shaker discharge end; the other is only 1 screw lifting at the middle of lifting device over discharge end.
Wedge blocks and tension devices are for shaker installation. Each panel of screen requests 2 each of block or draw bar. But there are special shakers, too. Such as HYP series shaker, and VSM300 screen. But Aipu shakers provide easy screen installation and convenient to find replacement parts.
Please tell us what kind of shale shaker do you need for your solids control system? And how many sets do you need? If you need further information or have any other questions please contact us freely. Trust Aipu solids control shale shaker are your optimal solutions. Save time and cost with us now!