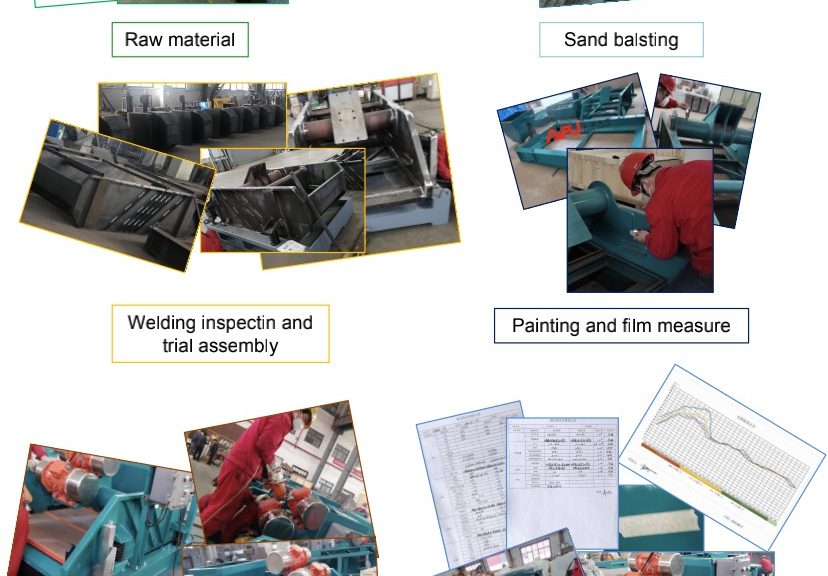 Solids Control Shaker technical and QC details ?>
Solids Control Shaker technical and QC details
Solids control shaker is a hot product at AIPU Solids Control. Let's find more about why it's popular. To know better about mud shaker, we need to understand details from the produce.
Shale shaker manufacture procedure
We'll issue the produce orders against the contract between AIPU and clients. On produce orders, there are details including but not limited to model number, specifications, quantity, special requirements on motors & surface colour, and so on
Then according to produce orders, the technical Dep. will dispatch the drawings and materials list. Purchasing Dep. and warehouse check the storage and things to be bought. Produce Dep. arrange riveting and welding step by step. All department will execute and finish orders together in an orderly way.
During the manufacture procedure, there are many QC implementation. Please check below details
QC on AIPU Solids control shaker
From the raw material, QC Dep. inspect and test the items strictly. When the raw material arrives at our facility, we'll check the certificates of suppliers and the supplied materials. Such as the COC, ISO, API, Ex-Proof, and/or other related certificates. Check the quantity and quality grade information.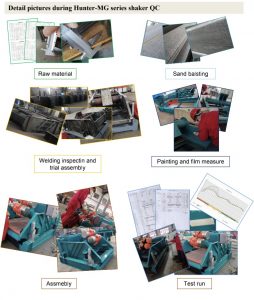 Standard materials including steel sheet, vibration motors, control panel, fasteners and so on. So, confirm their quality and quantity. If the specification conforms to order requirements.
Inspecting them by means of visual, measuring, checking documents, and so on.
For steel materials, we'll do the sand-blasting against arrival or after welding. The standard is SA2.5 that means the roughness is 25-50μm. According to the executive code and client's requirement, we'll adjust the roughness
During welding and mechanical processing, QC people will check the conformity of items. For example, if it's correct to drawings and the design code. Or if any blemish.
After earlier processing, we'll assembly components together and confirm the accuracy. Against approval, we'll do the test run. Record the whole process. Report it's qualified or not.
Every inspection step will be recorded and reported accordingly. If any non-conforming issues, it will be returned to the previous step and shooting the troubles till to the standard and required quality level
We do care what users care
Quality is everything, details lead to success. We know every little issue may lead to big trouble. So we insist on strict QC and circumspect services.
After finishing all the above produce and inspection procedure, we'll issue the COC and report the whole test result. Finally, pack the shaker and provide all necessary documents. When packing the shakers we consider the compact and durable package. No matter for sea or air shipment, you will receive shaker in good condition safely.