Solids Control Desilter Options ?>
Solids Control Desilter Options
Desilter is the third phase drilling mud cleaning equipments for a solids control system. Like the name, desilter is designed to separate silt from drilling mud. There different design for desilter for options depending on requirement as per bellow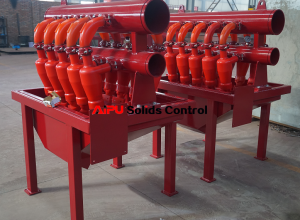 Desilter with cyclone and frame
Desilter with cyclone and frame is the economy option. It will contain cyclone, steel frame and hopper to collect solids particles. The cyclone normally 4" size and quantity depending on mud flow capacity requirement. It is small footprint and cost effective option, but the solids out of cyclones will be collected and discharged out directly, so the discharge is wet and more fluids will be discharged and wet discharged solids may need more treatments to get a dry product.
Desilter with cyclone and shale shaker
A shale shaker will help dry solids out of cyclone to get a dry solid product and reduce fluids reduce. For budget reasons, there is mini shale shaker or large deck shale shaker for options. There is 1 panel shaker, 2 panels shaker, 3 panels shaker or 4 panels shaker for option. The larger shaker screen area, the dryer performance of discharged solids but high cost.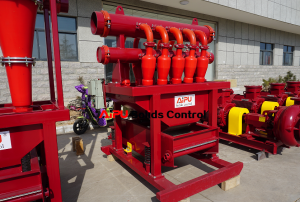 Desilter & desander combination
To minimum footprint with effective performance, there is a design to make desander and desilter frame sit onto a larger panel shale shaker (3 in 1). Both desander and desilter cyclone discharge will share the shaker screen panels. This option will save space and maximum it's working performance. So many clients choose this design on drilling site.