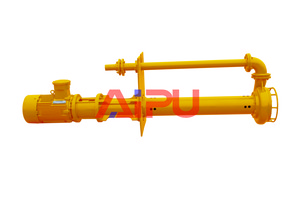 Some notices before choosing slurry pump ?>
Some notices before choosing slurry pump
Slurry pump is popular equipment in oilfield drilling system. It is very important to us for choosing a suitable and high performance slurry pump. High performance slurry pump can not only provide a long service life but also keep operation stable. A scientific and reasonable selection method will directly decide whether the pump can achieve high efficiency.
Slurry pump you choose must have following three characteristics
The efficiency of slurry pumps is high, less loss
The pump flow passage components should have a relatively long service life, saving the cost of production.
The whole drilling system is stable, the entire drilling system work is not affected by operation problem of slurry pump.
Therefore, customers should choose a company with strong ability as a partner so that you can get more economic benefits. But how to evaluate a company's ability. Now, Aipu solids control will give you several suggestions to refer.
The company has the latest and the most scientific product selection manual. Generally speaking, a slurry pump manufacturers provide customers reference manual to choose and design. And this data in manual completely determines the slurry pump selection is whether scientific and reasonable or not.
Experienced engineers. These engineers with many years experience will be very important for company development. Because they have strong actual experiences and meet customers' different demand.
The whole design of product
If you selecting a company are lacking in design ability, it can also influence your working efficiency.
Aipu solids control has rich experience on manufacturing and design of submersible pump and other related equipment. We have a large number of professional and technical personnel. The novel design and good practicability make sure our products with high praise from all clients. If you need some solids control equipments, please choose Aipu machinery. If you want to get high performance solids control equipments, please choose Aipu machinery. Aipu solids control is your best choice.