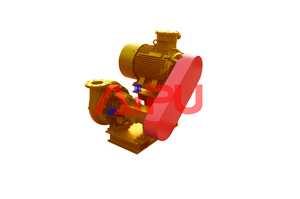 Shear pump manufactured by Aipu solids control ?>
Shear pump manufactured by Aipu solids control
In a drilling mud recycling system, for the bentonite and other additives, we could use the centrifugal pump to shear and mixing them. But for long strings polymer, only the shear pump could be used for its wider flow pass and smooth vanes.
The structure and function of shear pump
There are several parts in shear pump, including impeller, volute, packing case, shaft, combination belt and other machines. Drilling mud shear pump has more complicate structure impeller than other pump and also the impeller is the most important part of the shear pump because it can work highly efficient. It can mix and hydrate the material completely and save some mud material, it can also help to reduce configuration time and serves as an excellent helper to the well drilling operation. In situation when high performance of mud is needed, shear pump can treat the mud very fast and consumes less mixing time. In this way, drilling benefits are improved greatly.
Shear pump from Aipu solids control
As a solids control equipment, shear pump is widely used and the practice has confirmed its performance and efficiency.
Aipu shear pump adopts a very reliable mechanical seal, to ensure no leakage. Because of the improvement of the pump shaft seal, so life is greatly improved. The pump is equipped with stainless steel turbine and a shear plate, can produce liquid shear more than 25.4m/s, when the flow of fluid through the drilling mud shear pump, 5% of the liquid in the turbine collection strongly promote the will be the two shear. The turbine drilling mud shear pump installed in the special base, and pulley, narrow V belt and 55KW/75kw explosion-proof motor drives. In addition to a size suitable for mixing funnel and the drilling mud shear pump matching, thus formed a perfect shear and hydration system, also called shear mixing jet apparatus
Drilling mud shear pump is useful solid control system equipment that can meet with different purposes and requirements. In the recent years, the total amount of drilling shear pump is in great demand on account of its high performance and advanced technology. Our company is professional drilling equipment manufacturer and supplier offer the world with offer the world with drilling shear pumps. We now have oilfield and drilling mud system for sale, we render the best quality of drilling shear pump with reasonable prices and reliable service.
Any need for shearing pump and other solids control equipments, just feel free to contact with Aipu solids control.