Shale Shaker & Decanter Centrifuges Ready For Delivery ?>
Shale Shaker & Decanter Centrifuges Ready For Delivery
Shale shaker and decanter centrifuges are the most important equipments in the whole solids control system for first phase and forth phase cleaning. AIPU Solids Control finished manufacturer for 4 sets of double deck shale shaker, 2 sets of desander, 2 sets of desilter, 2 sets of middle speed decanter centrifuge, 2 sets of vacuum degasser, many sets of centrifugal pump and mud agitators. All equipments are ready for delivery depending on client indication. Here we'd like introduce shale shaker and decanter centrifuge mainly.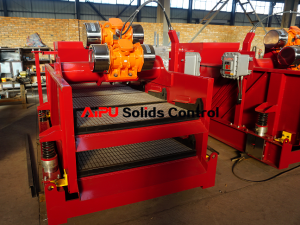 Double Deck Shale Shaker
It is double deck shale shaker with 4 panels each deck, totally 8 pcs shaker screen to maximum shaker performance and mud flow capacity. Composite material shaker screen installed for better screen performance and longer working life.
Top deck of screen working for coarse mesh screen for 20 mesh or other mesh depending on drilling conditions. Bottom deck screen working for finer screen like 40 or 60 or 80 mesh size to get a finer separation performance.
Explosion proof vibrator motor can be China made or Italian made depending on client's required certificate. China explosion proof, IECEX, ATEX, DGMS certificated motor can be supplied.
Electrical control panels specification normally same with vibrator motors
Shaker deck is material Q345 for better strength and safety.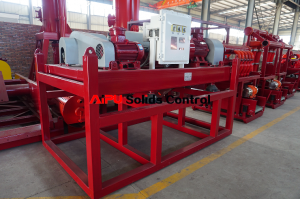 Middle Speed Decanter Centrifuge
Middle speed decanter centrifuge separation point is 5 – 7 microns, 40 – 60 cubic meters per hour mud flow capacity.
Screw and bowl are stainless material, the impeller coated with tungsten carbide material for protection and wear proof.
Main motor and assistant motor can different standard of Explosion proof like China explosion proof, IECEX, ATEX, DGMS or others.
The bowl rotating speed reaches to 1800 – 2200 RPM by change belt pulley.
There are high speed decanter centrifuge for option, please contact AIPU Solids Control for more information.