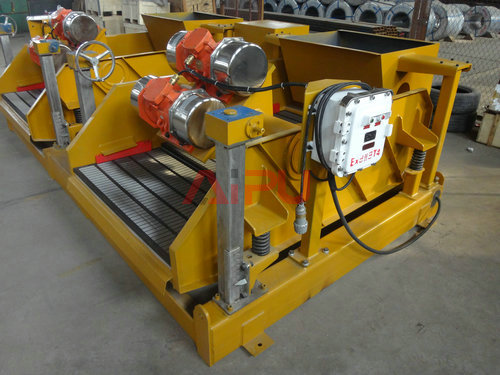 Types and structure of shale shaker ?>
Types and structure of shale shaker
A summary of shale shaker
Drilling mud shale shaker is a solids control equipment for drilling mud process. We adopted imported vibration motor to assure high quality. Meanwhile, the drilling mud shale shake can also be used as a underflow in the mud cleaner. High strength vibration and performance, compact structure, better filtration effect, deck angle is adjustable. At present, shale shaker is widely used in oilfield drilling, metallurgy, mine, chemical, trenchless engineering industries.
The types for shale shaker
Drilling mud shale shake is used to separate solid from drilling fluid. Many different styles and types, including
Circular motion shaker
Elliptical motion shaker
Balanced elliptical motion shaker (BEM)
Dual motion shaker combined linear motion and BEM
Most of shale shakes used rectangular screen, a large quantity of solid particles were cleared from the vibration of the low-end, small solid particles and drilling mud are through the screen to enter the circulatory system.
Shale shake structure
Drilling mud shale shakes are constructed with deck angle adjustment, shake screen, vibration motor, damping spring, control cabinet, regulating device and so on.
Deck angle adjustment: adopt crochet screen and bolt tightening or wedge shaped block structure to ensure not easy to damage screen, work reliably, easy to operate and maintain.
Vibration motor: composed of a shock beam and two sets famous explosion vibration motor. High vibrating strength and lower noise and long service life.
Shock absorber: using the high strength spring, stable performance, lower decibel, better efficiency.
Actuating device: by adjusting the structure of screw rod, high accuracy of regulation, good stability, simple operation and easy installation.
5. Control cabinet: Good safety performance, reduced voltage starting protection performance, long service life.
If you are interested, please feel free to contact us. Aipu solids control as a professional manufacturer on drilling mud process equipment can provide you high quality products and meet different users' demand.