Shale Shaker Spare Parts For Sale ?>
Shale Shaker Spare Parts For Sale
Shale shaker is designed to separate larger drilling cuttings by vibrating force and separated by shaker screen. It is the first phase drilling mud cleaning equipments in a complete solids control system. Shale shaker spare parts will keep sure the shaker working and operating in a good situation. AIPU Solids Control supply shale shaker spare parts for different models of shale shaker in the world. The main shaker parts including shaker screen, damping spring for shaker deck, wedge for tightening shaker screen with shaker deck, rubber system on shaker deck for seal, vibrator motor with different standard for different countries or drilling site.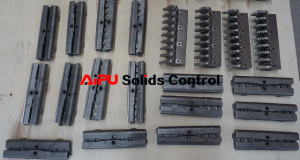 AIPU Shale Shaker Spare Parts For Sale
AIPU Solids Control keep all standard shaker spare parts in stock for fast delivery and flexible using. All spare parts for sale with good price and quality assurance. Other than the most popular shaker spare parts list above, AIPU supply a complete series of shale shaker spare parts because we are shale shaker manufacturer with all parts available. The client need mention shaker model, parts description, part no. and quantity for inquiry, so that we can understand all information and keep sure supplied parts suit clients without mistake.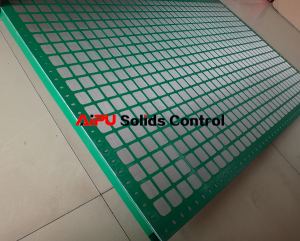 AIPU Shaker Screen
As shaker screen is one of the most important shale shaker spare parts, I'd like mention separately that AIPU supply different type shaker screen for all well know shale shakers in the world. Steel material or composite material for option, hook or wedge type screen depending on shaker models. All shaker screen built as per API RP 13C standard with compliance test report for quality assurance. There are free samples supplied by AIPU once you could offer any good application form and agree AIPU free samples agreement.