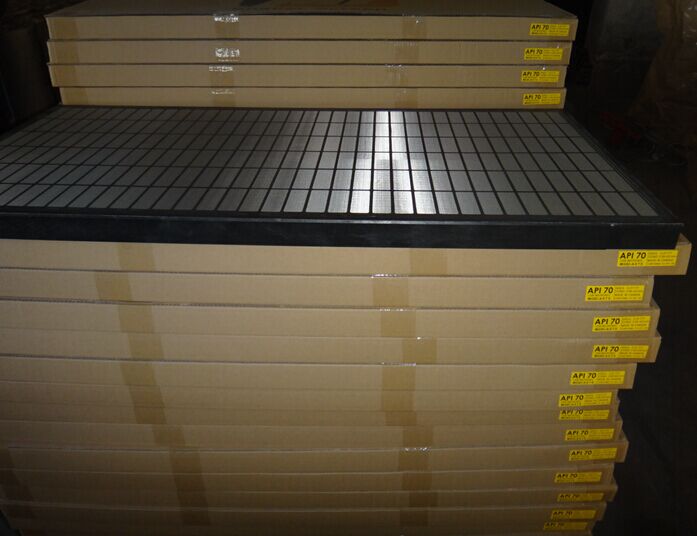 Shale shaker screen for sale ?>
Shale shaker screen for sale
Shale shaker screens are important spare part for shale shaker. Even for general solids control equipments, shaker screen is rather consumable.
Shaker screen sale from Aipu
Shaker screen are divided into various types according to different standard. Totally including flat screen, pyramid screen, steel fram screen, soft/hard hook strap screen, composite screen, PU screen, etc.
Furthermore, it is also divided into single layer, two layers and three layers screens. Then, subject to shale shaker screen mesh size including common mesh screen, fine screen, super find screens.
As an API Certified manufacturer for shaker screens, Aipu solids control have the following shale shaker screens for sale:
Aipu API Shale Shaker Screen
Derrick Shale Shaker Screen.
MI-Swaco Shale Shaker Screen.
NOV Brandt Shale Shaker Screen.
The following is Screens API size
The API RP13C is rather essential international standard. These standard issues including the API screen size, D100 cut point range, conductance, non blanked area. Generally, from 20-400 or API20-API425 for shale shaker.
If we request API140 screens its opening size is about 104microns while the cut point range is 98~116.5microns, while the conductance is variable according to different design and different manufacturer.
Commonly it will be 0.99~2.24, etc. None blanked open area determined by labeling and measuring every opening on two production screens.
So, when we select or purchase shaker screens, the API size is universal and standard one. You can tell us the API number or the mesh size, either the cut point of separated particles.
High performance shaker screen from Aipu
Aipu mud equipment produces high quality screen, including above mentioned brand and model. The price is rather competitive with reliable quality. The usable life is variable as per different working condition or mud property. While the price is very reasonable and cost-effective.
When you order our screens, you can tell us the shale shaker brand and model, the appearance, the clamping type, the mesh size or API number as we talked before. Anyhow, more information you give us more optimal and correct quote will be offered to you.
Listed famous brand screens are replacement not original ones produced by concerned manufacturer. All information is supplied solely for informational purposed and shaanxi aipu makes no guarantees or warranties,either expressed or implied,with respect to the accuracy and use of this data.All products warranties and guarantees shall be governed by the Standard Terms of Sale.Nothing in this page is legal advice or is a substitute for competent legal advice.Also forgive us for inconvenient updating you on our future version page with revision.
Mongoose™,ALS™,BEM™ are trademarks of M-I SWACO, a  Schlumberger company. NOV VSM300™, Cobra™ and King Cobra™, LCM™ are trademarks of varco LP Inc. KTL-48™, KPT,  Kem-Tron™ are trade marks of KEMTRON Technologies. Derrick™, FLC500™, FLC2000™, PMD™, PWP™, Dual pool,Hyper pool are marks of Derrick corporation