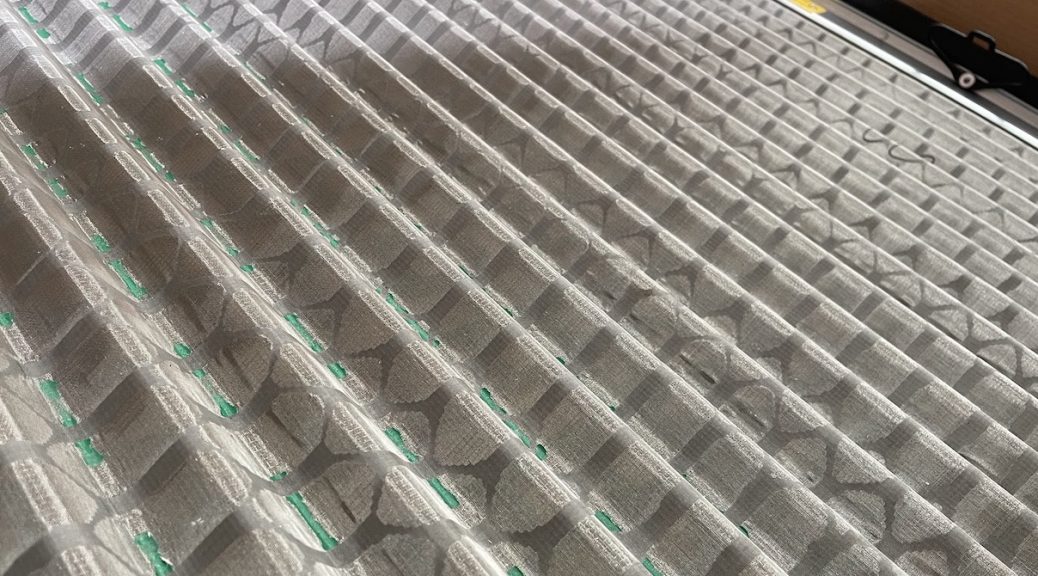 Shaker screens test and quality control at Aipu ?>
Shaker screens test and quality control at Aipu
Shaker screens test is a comprehensive subject. We are talking about the test here including a test for quality control procedure; also the test introduced as per API RP13C in a special laboratory.
Test for quality control during screen manufacture
This test including but not limited to inspection and tests followings. Screen cloth, rubber seal, support panel, handles, end caps of waves, loading ability, etc.
Inspection on screen cloth consists material confirmation (by checking material list, and measuring elements by spectrometer), the mesh size or opening quality (opening accuracy, even or not).
For rubber seal, we consider shaker screen working condition is very hard in high temperature. Sometimes, the oil content of fluids is high and with corrosion features. So the rubber if needed on sides of screen panel we'll use the high quality HNBR and test them by putting it in oil and hot water. For sealing rubber on back side of screen, we'll use the digital equipment to brush special foaming rubber strip in a proper line. A finger pressing on the rubber strip and shake the finger to check stability. Furthermore, nip the strip softly to check the flexibility and durability.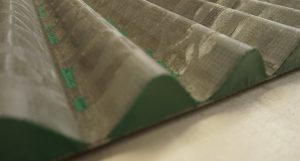 After finishing shaker screens before packing them, we'll stand on the peaks of the corrugated screen. It will help us to check the peak strength. Even there is a people weighs 220lbs standing on corrugation poles the screen panel is still strong and straight with no deformation.
Special shaker screens test under API RP13C made by professional 3rd party lab
This test is not a must but necessary for a professional manufacturer or supplier to give users reliable screens. What is the details of API RP13C test? There are many procedures and issues.
To be API RP 13C compliant, a screen must be tested and labelled in accordance with the new recommended practice. Internationally, API RP 13C will become ISO 13501. The greatest value of the new numbering system is that ALL conforming screens are measured using the same process. That will allow cross-comparison of screen designs/types based on a uniform solids size removal value.
The new number describes the size at which particles will be rejected (removed) under laboratory test conditions. ALL screens which are tested according to RP13C and have the same API Screen Number will remove solids of a similar size. However, the new API number is NOT intended to describe how the screen (or indeed the shaker) will operate in the field. This will depend upon several other parameters such as fluid type & properties, shaker design, operating parameters, ROP, bit type, etc.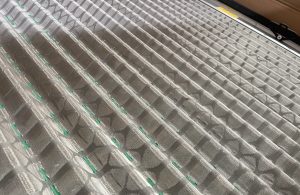 Any supplier labeling their screens as "conforming to API RP 13C" must supply the test data for that screen upon request to the end user/purchaser.
D100 cut point test
The D100 cut point, the absolute separation potential of a screen, is used for assigning screen designations. The RP 13C cut point test is based on a time-proven testing method used by ASTM to classify particles size. The procedure utilizes a series of standard-size screens (sieves), which have been used for such analysis since 1910. The API standards committee simply adapted the use of these sieves to designating shaker screens. The shaker screen designation is identified by matching the screen's cut point to the closest ASTM sieve cut point.
The cut point test uses aluminum oxide, a Ro-tap®, a set of ASTM sieves, a test screen, and a digital scale for weighing the quantity of test particles retained by the screen. A representative section of the screen is mounted in a holder and is placed in the middle of a stack of ASTM test sieves (calibrated according to ASTM E-11). Using a Ro-Tap® a defined amount of dry Aluminum Oxide is sieved and the results collated and graphed. The test is repeated three times and the results from each test are then averaged to determine the D100 cut point and the screen is given an API number of the test sieve having the closest D100 cut point.
Cut point meaning
For example, if the measured D100 cut point of the screen is 114.88 microns the table indicates that it compares to the ASTM 140 sieve. The test screen would then be classified as an API 140 screen. Important Note: RP13C states that this test describes the openings of the screen and does not predict the performance of the screen in the field. However, if all other variables are equal, a screen with a higher API Screen Number (smaller holes) should remove more and finer solids.
The change from RP13E to RP13C is a positive step because the new procedure moves away from measuring openings in the screen to an actual physical test using real solids. One further advantage of RP13C is that any screen with any aperture shape can be tested using the same procedures.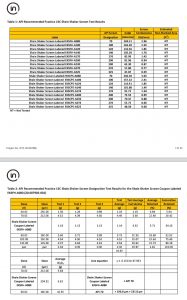 Conductance Test
Conductance is a measure of the ability of a fluid to pass through a screen. This property is determined by flowing 5W30 motor oil through a screen sample and then applying the pressure differential to a formula to calculate the conductance. Motor oil was selected because it oil-wets the screen and has a high viscosity. A large volume of motor oil is needed to allow equilibrium and to prevent large temperature changes.
Other tests on screen panels
Besides the above screens test, we also do some special test on screen cloth material regularly. Such as the pull test to check if the physical feature is enough for practical operation. For carbons of the screen, we also have done the loading test many times. We load 10 or 15 cartons of the corrugated screen on the shelf, there is no deformation on cartons. Such stacking is a common situation to most users. No deformation means cartons are strong enough to protect the internal screen from collision or damage.
You wanna more details of Aipu shaker screen test and QC procedure? Why not contact us now? You will know better on screen quality details and select better suppliers providing better screens.