Shaker Decks Under Fabrication ?>
Shaker Decks Under Fabrication
Shaker deck is one of the most important component for a shale shaker which requires high strengths while 0-7.5G vibrating with motors bolted and drilling mud under treatment. AIPU is building 12 sets of shale shakers for 3 onshore drilling sites finished building jobs and waiting for sand blasting and painting. Sand blasting is a necessary procedure to help painting quanlity which is very important for shaker working out side. Each site requires 3 sets shaker and 1 set mud cleaner bottom shaker to dry solids after cyclones.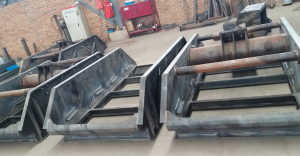 Shaker Deck Features
Deck material is high strength Q345 to allow shaker high G forth vibrating. Steel material selection from top steel company and quanlity guaranteed.
Strengthen steel plated welded on deck side to help the deck strong enough for 24 hours work.
Vibrating beam welded on shaker deck to install vibrator motors. 3 strengthen steel welded onto the beam.
ASME certified welders for all shaker deck welding to keep sure welding quality is good and steady. Best quanlity welding is the basic of a good quality shaker deck and shaker performance.
Shaker deck back is 45 degree angle to allow mud flush into steel plate instead of shaker screen to reduce mud speed and screen damage.
The 12 sets shaker deck will be ready for delivery in a week, the other 10 sets is under building which is building for stock. Please contact us freely for shaker or mud cleaner inquiry.