Screen Separation Shale Shaker in Mining ?>
Screen Separation Shale Shaker in Mining
Screen separation shale shaker is widely used in mining slurry separation for larger solids separate by a shaker screen with suitable API mesh. AIPU Solids Control supply mining slurry separation equipment including shale shaker, cyclone desander, cyclone desilter, centrifugal pump, mud agitator and mud tank. Linear motion shaker is the best option because of steady working for various mining slurry. Mining shale shaker is slightly different with oilfield shale shaker, especially on it's electrical standard requirement.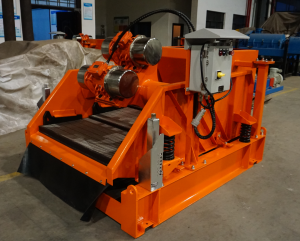 Mining Shale Shaker Features
3 screen panels or 4 screen panels shaker for slurry flow 400 – 500GPM treating speed by API 40 mesh. Other size screen can be selected depending on cut point requirement and slurry conditions.
Linear motion with G force 6.5-7.5G to reach a better separation. Linear motion is supplied by 2 sets vibrator motors. Dual motion shaker normally will not be used in mining for cost effective.
Vibrator motors and electrical control panel non-explosion proof standard for cost effective. Short motors and long motors can be supplied both but short motor is more cost effective.
Composite frame shaker screen installed on shaker by wedges locking for fast replacement.
AIPU screen separation shale shaker is well used in mining slurry separation with good feedback. One of our European clients ordered a 500GPM mining slurry system and repeat order for 4 sets shale shakers for other mining site after good feedback. Please contact AIPU Solids Control by email for shaker inquiry.