Replace Shaker Screen for MD Series Shaker ?>
Replace Shaker Screen for MD Series Shaker
There are many suppliers for replace shaker screen for MD series shaker, AIPU is one of the leading suppliers in China with API RP 13C compliance test report and supply replace screen for MD series shaker. The MD series shaker screen is special designed size and screen seal system, so it's getting more and more popular on drilling site.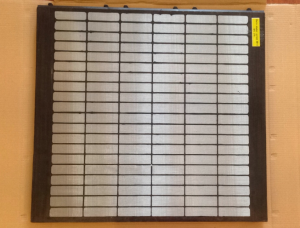 Specification for MD Series Shaker Screen
1.       Screen dimension: 648mm by 596mm size, Each side of screen have 6 pcs hooks and the opposite side has 6 holes to allow 2 pcs screen seal with each other.
2.       There is 6 lines by 20 lines of composite frame hole, each hole 89mm by 23mm size. There is 4.5mm gaps between the 6 lines and smaller gap between the 20 lines.
3.       Screen frame is composite material frame, stainless steel wire pressed into the frame which is much better than blues.
4.       All above size has tolerance +2 to -2mm size on the screen dimension.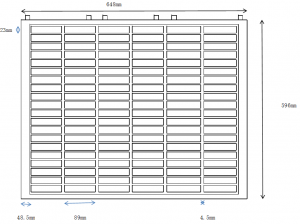 Replace Screen Order Procedure
1.       Contact AIPU Solids Control and confirm replace shaker screen model, mesh size, quantity, delivery terms, etc. After satisfy with AIPU commercial price, goes to next procedure.
2.       Ask AIPU screen sample or visit AIPU factory on confirm screen quanlity. AIPU supply 1 pc free sample for a customer, the sample can be ready for delivery in factory and client will arrange pick up from factory and supply soft copy screen test report.
3.       Send us screen test report and confirm us if you are happy or not on screen test. AIPU invite all client come and visit us for factory test.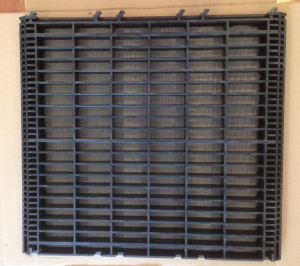 4.       Send us purchase order for shaker screen as per quote and buyer arrange down payment to release manufacture.
5.       AIPU start manufacture after received down payment, the screen will be done as per API RP 13C regulation and follow AIPU internal manufacture procedure and quality control system.
6.       Buyer arrange balance payment 5 days before delivery, AIPU will book shipment as per delivery time and confirm all delivery terms as per contract.
7.       AIPU send all documents to client for custom clearance purpose. Client will pick up screen as per documents and delivery screen to site for operation.