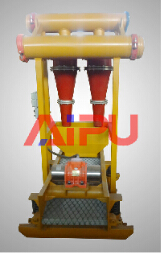 How to prolong drilling fluids desander lifespan? ?>
How to prolong drilling fluids desander lifespan?
People buying drilling fluids desander is in order to remove heavy ash particles. Long-term operation definitely leaves a desander worn or damaged or even useless. Therefore, to maintain desanders is very vital, which can increases their service life as well as reduce energy consumption.
Repair or replace damaged parts immediately
During the operation, the drilling fluids desanders need to be maintained. Usually, some parts of desanders are easy to wear off, such as upper cone-shaped canister and the swirl's body case. Therefore, you need check it in time. If one part are damaged, you must repair immediately. If it cannot be repaired, you must buy a new one at once, because the damaged part is able to influence other part of a desander.
Avoiding roping happened
The drilling fluids desander removes the sandy material not only by the motion, but also by low-pressure vortex which pulls the excess liquid and small particles. During this process, the quick air stream also helps the separation. However, this process will meet some problems such as roping which is to describe a solid discharge stream flows from the desander. Roping can cause reducing solids removal capability and increasing the possibility of wearing down desander components. Sometimes it will bring potential damage to the feed pump. Therefore you must make roping not happen if you want to protect the desander. How to do it? Roping happens because the apex opening is overloaded with solids, which prevents air from moving to the cone. Such an apex blockage can make feed material not move downward. That is an abnormal operating. If you still keep operating, the more time you continue, the more difficult to clear the particles. What's more, with such a risk, the risk of damaging to the desander will be increased.
Operating drilling fluids desander correctly
The best maintenance of a desander is to operate it correctly. According to research, many repair and replacement are because of wrong operation. For example, the ideal spouting angle at the bottom should be 20°to 30°, while many people never notice that. They just keep running the desander. It is no wonder that the drilling fluids desander will need maintaining and repairing. Maintaining a desander is not difficult. However, it still need your carefulness. And the desander needs maintenance not just once.
In a conclusion, if you want to protect the desander, the most important one is you should operate it correctly.