Oilfield Mud Tank System for Drilling Mud ?>
Oilfield Mud Tank System for Drilling Mud
Oilfield mud tank system is designed for drilling mud recycling and reuse on drilling site. This will reduce drilling waste damping, new mud cost, water requirement, etc. The mud tank system can be very different due to different requirement of mud flow capacity, mud tank storage capacity, equipments selection, pipeline arrangement and tanks layout. Depending on drilling conditions, the mud tank system can including shale shaker, desander and/or desilter, decanter centrifuge, mud agitators, transfer pumps, different size of mud tanks and tank attachments.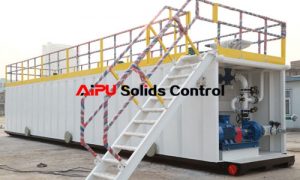 Mud tank design for a whole mud tanks system
Mud tank size will be depending on mud tank storage volume and equipments arrangement. To suit steel raw material size, the mud tank height will be H beam + steel plate width + square pipe size on tank top. The H beam can be 100mm, 150mm , 200mm, 250mm or 300mm size. The bigger tank will require stronger size of H beam. Steel plate width size popular with 1000mm, 1250mm, 1500mm, 1800mm and 2000mm. The tank height adjustment normally will be depending on steel width and 2 different size of steel can be welding together to suit any size of tank height. Square pipe on tank top normally 100mm or 150mm size for clean water line and mud gun line as well as keep tank strength.
Mud tank can be divided into several small mud compartment to suit drilling conditions, there can be sand trap, pill tank, slug tank, suction tank, reserve tank or mixing tank. Each tank will be fixed with mud agitator, mud gun or mud recycling equipment. The different compartments will be connected with pipeline and control valve.
Mud tanks layout will be depending on drilling site conditions and equipment functions, all tanks will be connected with pipelines inside of tank and handrail with walk ways on tank top for a work platform.