Oilfield Linear Motion Shaker Specifications ?>
Oilfield Linear Motion Shaker Specifications
Oilfield linear motion shaker is the well used shaker on jobsite and most popular shaker. Other than linear motion, there is dual motion shaker and balance elliptical motion shaker. AIPU Solids Control builds all above type shaker and oilfield linear motion shaker is the most popular one amount all sizes shakers.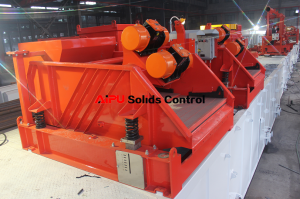 Oilfield Linear Motion Shaker Specifications
There is double deck shaker and single deck shaker, each deck contains 1 – 4 pieces screen with steel or composite material screen frame. Each shaker install 2 sets of same size vibrator motor to supply 6.0 – 7.5 G forth.
The shaker deck angle can be adjust from -1 to +5 degree depending on drilling mud conditions and shaker screen selection. The shaker deck angle is mechanical adjust or electrical depending on model selection.
Electrical control panel and vibrator motors are included in the shale shaker. Both motors and control panel is same explosion proof specification.
Shaker screen area is the total area of the shake screen. The larger screen area, the better drying performance for discharged drilling cuttings.
Buffer box of shaker can be fit at back of shaker or on top of shaker depending on jobsite requirement. If buffer box fit on back of shaker, the total width of mud tank is larger but minimum it's mud flow inter height. If buffer box fit on top of shaker, the total width of tank is smaller, but it will increase mud flow inter height.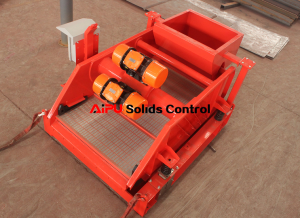 AIPU solids Control is one of the leading supplier for oilfield linear motion shaker as well as shaker screen for all sizes shaker. AIPU supply steel or composite material both depending on screen model as per API RP 13 regulation. Other than screen for AIPU shaker, we supply screen for international brand of shale shaker, please contact AIPU freely.