Oilfield Desander Delivery To Jobsite ?>
Oilfield Desander Delivery To Jobsite
AIPU built 5 sets oilfield desander and delivery to sea port last week for sea delivery to jobsite. Other than 5 sets of desander, AIPU built desander feeding pump with pump body and electrical motors with electrical control panels that delivery together desanders. The clients asked desander inquiry for tender with technical tender and commercial tender parts, AIPU supply all technical documents with highly commitment of technical requirement.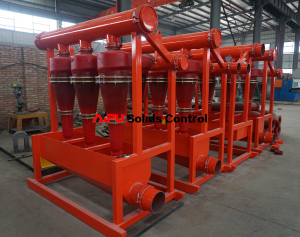 Oilfield Desander Technical Description
1500 GPM mud flow capacity by separating solids particles above 47 to 76 microns. The mud flow capacity is fed by centrifugal pump with proper pressure and mud feeding head.
3 sets of 10 inch desander cyclone, each desander cyclone capacity 500 GPM, 3 sets cyclone fit on a same inlet pipeline and outlet pipeline.
A work frame to hold 3 sets desander cyclone, work frame, inlet pipeline, outlet pipeline and hopper for collecting solids discharged from cyclone nozzle.
A set of centrifugal pump will be required for feeding cyclone at proper mud flow capacity and mud pressure. The pressure should be in 0.25 to 0.4 Mpa to help cyclone working properly.
A set of electrical control panel will be required to control motor on centrifugal pump. The electrical control panel can be set into a MCC house or somewhere not far away.
There will be extra pipeline ordered for desander pipeline arrangement. The clamp or flange will be required for pipeline connection.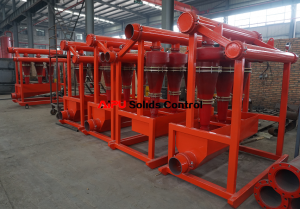 AIPU Solids Control build a complete line of oilfield solids control system including oilfield desander as well as shale shaker, desilter, decanter centrifuge, mud tank, centrifugal pump, mud agitator, etc. Other than whole set of oilfield desander, AIPU supply spare parts like desander cyclone, clamp, impeller for deander feeding pump, etc. Please contact AIPU Solids Control for more information.