Oilfield Decanter Centrifuge Supplier ?>
Oilfield Decanter Centrifuge Supplier
Oilfield decanter centrifuge is a core equipment for drilling mud process, AIPU Solids Control is one of the top suppliers in China and supply electrical motor and control panel as per different explosion standard. The centrifuge contains rotation system, electrical motor, control panel and centrifuge frame. AIPU supply different sizes of centrifuge as per mud flow capacity and solids separation size.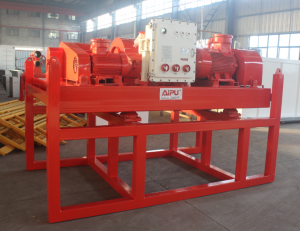 Oilfield Decanter Centrifuge Specification
Centrifuge bowl and screw material is stainless steel SS304, there is duplex stainless steel SS2205 or SS316 material for option on different price rate.

Screw impeller is coated with tungsten carbide, tungsten carbide alloy welded onto screw impeller can be supply as per option with different price rate. The welded tungsten carbide alloy can be replaceable for flexible centrifuge maintenance.

Centrifuge bowl size can be 220mm, 355mm, 450mm or 530mm as per different mud flow requirement, the bowl length is 660mm, 1258mm, 1000mm, or 1350mm size to match with above bowl diameter.

Electrical motors size selected as per bowl diameter and length, explosion proof standard and certificate as per buyer requirement. IECEX or ATEX certified motors can be supplied.

Electrical control panel selected same explosion proof standard with electrical motors. The fixed speed centrifuge panel is fixed on centrifuge frame, VFD control panel will be fixed separately.

Centrifuge bowl speed is 1800RPM to 4000RPM depending on centrifuge model.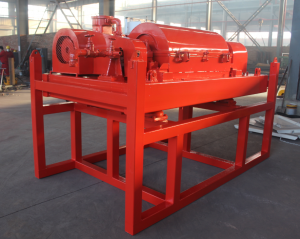 Oilfield decanter centrifuge is the forth phase separation equipment to be 2-7 microns depending on bowl size and rotation speed. Other than centrifuge, AIPU supply a complete line solids control system or equipment like oilfield shale shaker, mud cleaner, vacuum degasser, oilfield mud agitator, various mud transfer pump, mud storage tank and other mud equipment.