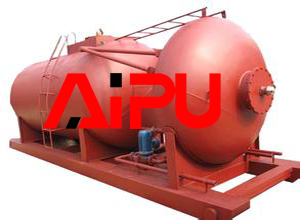 Oil tank for solids control system ?>
Oil tank for solids control system
Oil tank brief introduction
Oil tank is the specialized tank to store fuel for diesel engine and generator. It mainly consists of storage tank, self-priming centrifugal oil pump, filter, flow meter, explosion-proof liquid-level switch, liquid level gauge, and manifold and stainless steel valve.
Oil tank using notes
Lower temperature and reduce temperature difference.
Don't put tank as inversion if not really necessary.
Keep the oil tank far away from copper and other metals
Prevent oil tank explored in air, seal the tank as tight as possible
The oil tank cleaning
When diesel fuel was completely exhausted of the tank, operators should wear protective clothing, breathing apparatus and explosion-proof lamp, from the manhole go into the oil tank bottom then extract dirty object at the tank bottom.
After exhausting out, using large rags cleaning tank.
After cleaning oil tank completely, use hole sealing gasket and sealant, install manholes cover and screw fastening.
Operator should periodically check oil level and record the diesel oil quantity.
The advantage of Aipu oil tank
Customizable for optimal solutions to users
The raw material is from top MFG. Such as HBIS, BAOGANG, etc. Ensure the quality essentially
Tank body welded of plate after bending. Will do the pressure test, etc. Promise clients quality products
All the tanks adopted man hole, ladders, and air hole. Internal blade to avoid diesel oil heavy shaking
Configure explosion proof diesel pump and level sensor
All accessories and fittings are from API and ISO certified manufacturers to make sure safe quality
The painting is the powder coating internal. The paint oil is high anti-corrosive and durable marine paint to provide reliable quality and better appearance.
The oil tank can be used to store fuel. According to different customers' demand, Aipu machinery can design and manufacture the most satisfactory products so Aipu solids control is you ideal choice.