Mud Tank Valve Supplier ?>
Mud Tank Valve Supplier
Mud tank valve is well used in drilling mud tank pipeline arrangement to supply flexible mud suction or discharge. The tank valve can be butterfly valve with wheels control, but the valve control is very heavy and rubber seal easy get old to seal. AIPU supply mud tank valve to open or stop pipeline on vertical direction which is easier to control and easy maintenance. The valve can be used on mud tank suction line and mud mixing pump suction line. AIPU Solids Control is one of the professional suppliers for mud tank as well as mud tank equipment and spare parts.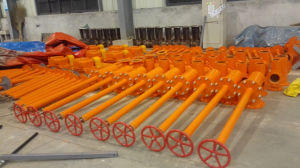 Mud Tank Valve Specification to Quote
1.      Valve size is the most important specification, 5", 6", 8", 10" and 12" size valve is the most popular size that used on mud suction line. The seal part of valve can be carbon steel or stainless steel material depending on client technical requirement and budget price.
2.      Valve depth design to suit mud tank depth. The valve depth normally 100mm shorter than tank depth.
3.      Minimum order of tank valve is 20 pcs to arrange delivery and material source. Less quantity of tank valve will make purchase cost higher because of material purchase price and inland freight.
Mud tank valve suppliers in China is very limit because rare of them use same design compared the oversea drillers. AIPU is able to supply the tank valve because we export mud tank and mud equipment to overseas and tank valve can be supplied to support our international client. Please contact us freely for tank valve or other mud tank spare parts like mud agitator, centrifugal pump or other parts.