Mud Tank Suction Valve Supplier ?>
Mud Tank Suction Valve Supplier
Mud tank suction valve is to install on mud tank for mud pump suction line and mixing pump suction line. AIPU Solids Control is a supplier of oil and gas mud tank with mud tank suction valve inside, so AIPU Solids Control supply mud tank suction valve to international clients as per mud tank design.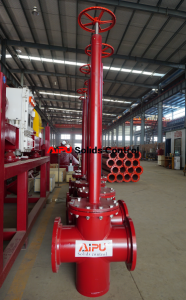 Mud Tank Suction Valve Specification
Butterfly valve with wheels and pipes can be working as the mud pump and mixing pump suction line valve.
Mud tank standing valve with wider pipe is another valve for mud pump suction line and mixing pump suction line. It's easier to open and close while high level drilling mud inside of mud tank.
Size of valve: 6 inch, 8 inch, 10 inch, 12 inch and 15 inch. Height of valve is customized depending mud tank height. The suction and outlet design can be built as per mud line arrangement.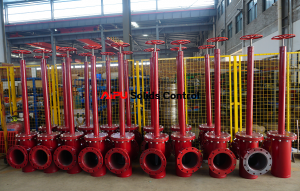 Mud Tank Specifications
Shale shaker mud tank will be divided into 3 or 4 tank compartment as trip tank, sand trap, desander tank, and/or desilter tank. 2 sets of shale shaker, 1 set of mud cleaner or separate desander and desilter will sit on mud tank to minimum footprint.
Centrifuge tank will be divided into 2 tank compartments, the first compartment will set a screw pump tank to hold mud after desilter, the screw pump will suck mud and feeding into decanter centrifuge, the other compartment will hold mud after centrifuge with a mud agitator.
Storage tank and active tank will work to storage clean mud tank with suitable mud pump and mixing tank suction line with mud tank suction valve.
Mixing tank set with mixing pump and mixing hopper for new mud mixing with several mud tank compartments and mud tank suction valves. All tanks will connect together with mud tank valves for flexible control.