Mud Mixing Tank Delivery to Australia ?>
Mud Mixing Tank Delivery to Australia
Mud mixing tank is designed for mud mixing application with mixing tank, mixing hopper, mixing tank as well as pipeline arrangement. AIPU built 2 sets of mud mixing tank to Australia with compliance of Australia standard on electrical and mechanical safety. All the connection is 4" flange or fast union connection. The 2 tanks will be packed in a 40 feet container for sea delivery to Brisbane to reach drilling site.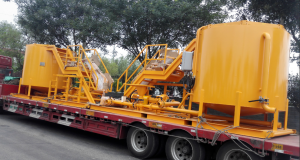 Specification of Mud Mixing Tank
1.       Overall mud tank dimension is 5900 x 2200 x 2500 mm to suit container sea delivery. The handrail is able to be adjust from 3500mm height to 3000mm height for Australia road transport delivery.
2.       1 set 4×3 centrifugal pump with 11kw electrical motor working as a mud mixing pump, the mixing pump sit beside mud mixing hopper with butterfly valve control. The electrical motor is IECEX certified to suit Australia standard.
3.       1 set 7.5kw mud agitator install on tank top to stop solids build up. The shaft length is 2.5 meters long to suit tank depth, there is a stabilizer fixed on tank bottom.
4.       Round tank with a V bottom to easy damp and allow mud mixing pump suction effectively. The tank is 47 bbl mud storage capacity with level indication by floating ball.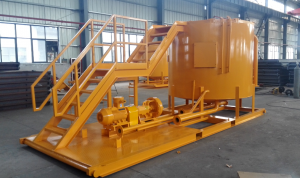 5.       Electrical control panel with emergency stop and IECEX certified to suit Australia standard. The control panel is fix on tan wall beside mixing hopper for convenient control.
6.       A stair is fixed on tank skid with handrail to tank top, a steel frame that able to fix 4 pcs 4 inch cable. It is able to be locked by a T bar at side of steel frame.
The mud mixing tank is able to be customized on mud tank type, tank size, pipeline arrangement, equipment selection as well as any other details. Please contact AIPU freely for inquiry or technical customized design.