Mud Mixer for Bentonite Mixing ?>
Mud Mixer for Bentonite Mixing
Mud mixer is a combination of mud mixing hopper, mixing pump, pipeline arrangement with butterfly valve and working skid. The mixer is designed for bentonite mixing to supply a proper mixed mud. AIPU is a professional manufacturer for separate mud mixer or mixer components which can be customized installation as per jobsite requirement and client budget. The mixing hopper can be lay on top of tank or tank skid or only separate mixing skid. AIPU built hundreds of mud mixers for bentonite mixing in oil & gas drilling, coal gas methane drilling, horizontal directional drilling, water well drilling and any other drilling which will require drilling mud.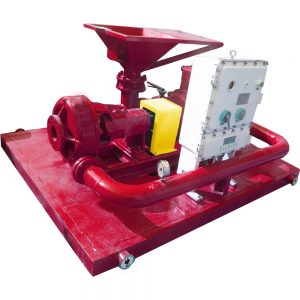 Mud Mixer Specification
Mixing hopper 6" or 4" size for selection depending on mud mixing capacity. The hopper contains a square or round hopper, venturi three direct links and 3 sets butterfly valves.
Centrifugal pump with mechanical seal, pump size is an open option depending on mud mixing speed requirement. Normally 8×6 pump for 1000GPM mixing flow and 6×5 pump for 500GPM mixing flow.
Pipelines connect mixing pump and mixing hopper to make a mud mixing circulation with inlet and outlet controlled with flange and fast connection.
Working skid to supply a platform for all above parts and fixed for fork lift loading eyes.
Other than mud mixer, AIPU is able to offer a mud mixing tank with mud tank, mud mixer, mud agitators, etc. Mixing tank size can be customized but six meters tank is most popular because it's suitable storage capacity, inland transport and 20 feet containers lifting eyes. Please contact us freely for mud mixer inquiry.