Mud Gas Separator for Drilling Mud Treatment ?>
Mud Gas Separator for Drilling Mud Treatment
Mud gas separator (MGS) is the ideal equipment to separate gas out of drilling mud before shale shaker to reduce gas explosion. The MGS has another name poor boy degasser too. AIPU supply 3 models of MGS with 800mm, 1000mm and 1200mm diameter tank vessel. The model selection can be done as per mud flow capacity requirement or budget requirement. Some clients requires only MGS and some require MGS and flare ignition device both depending on drilling conditions. If no flare ignition device, the gas vent line on MGS will be set on vessel top with meters of gas vent line to allow separated gas discharge out.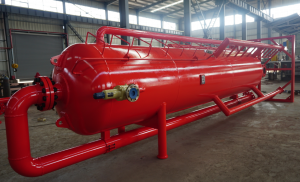 Mud Gas Separator Installation Features
1.      MGS will set beside shale shaker tank and connected with shaker distribution tank to allow treated mud goes into shale shaker for solids separation.
2.      Mud comes out of chock manifold will goes into MGS directly for gas separation.
3.      The footprint of a MGS is 2 meters by 2 meters with a stand to hold tank vessel. The stand design can be changed and supply to client as per request to allow degasser fold down on to a skid.
4.      A flare ignition device can be selected to sit 30 meters away of degasser to burn the waste gas out of MGS.
AIPU Solids Control build mud gas separator as well as other drilling mud equipment to supply a complete drilling mud process equipment. Please visit our website freely for inquiry.