Mud Cleaner for Sale in CIPPE Exhibition ?>
Mud Cleaner for Sale in CIPPE Exhibition
Mud cleaner is the second phase and third phase cleaning equipment with shale shaker to dry discharged drilling cuttings. So the mud cleaner has another name "3 in 1" with desander, desilter and shale shaker combined together. AIPU will show mud cleaner at CIPPE exhibition for sale with good discount and cleaner will be delivery to buyer after the third day of show. The mud cleaner is designed for oil and gas drilling with 1000GPM mud flow capacity and 15 – 25 microns cut point after desilter cone.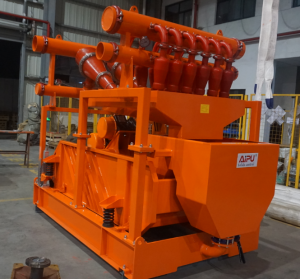 How to Order AIPU Mud Cleaner Shown at CIPPE
Visit our stand at CIPPE on During Mar 27 – 29 at Beijing Exhibition Center.
Order 1 set mud cleaner shown at CIPPE before mid day of Mar 29, so that we can arrange delivery after the show.
Special discount for shown mud cleaner: 20% OFF
Terms of Delivery: AIPU will help deliver the mud cleaner to Tianjin Sea Port or somewhere that within 300 km. Delivery cost is on AIPU account.
Quality assurance time: 18 month after Mar 29 or 12 months after first time jobsite commissioning whichever comes earlier.
After sales service: AIPU supply first time jobsite commissioning and training for client. AIPU will be zero charge for commissioning and training but buyer will pay labor travelling cost.
The mud cleaner is 1000GPM mud flow capacity, AIPU is able to supply other options of mud cleaner 500GPM or 1500GPM options with open shaker model options too. Please contact us freely for mud cleaner purchase before March 29, 2019.