Mud Agitator And Vacuum Degasser Delivery ?>
Mud Agitator And Vacuum Degasser Delivery
Mud Agitator and Vacuum Degasser are 2 important equipment to make a whole solids control system. A client ordered one set of vacuum degasser and 10 sets of mud agitator to replace on the current solids control system. All equipment packed by plastic as well as pallet or wooden box to transport. The impeller of agitator can be customized by single layer or double layer as well as impeller diameter and shaft length. The vacuum degasser is self suction with 1.5m suction pipeline which is different with US design.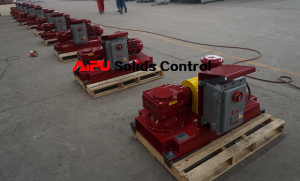 Mud Agitator Main Configuration
The mud agitator mainly including one set of electrical motor, one set gear box, one set coupler and shaft with impeller. The electrical motor can be different options on motor brand and specification like IECEX certified or ATEX or UL or DGMS certified or non-explosion proof. The shaft length is depending on tank depth, the standard length will be bellow 2.4 meters. Impeller can be single layer if tank not that deep or double layers if tank height exceed 1.8 meters normally. The impeller diameter can be 600mm to 1100mm depending on tank size. If AIPU build a whole solids control system, normally mud agitator will set each 3 to 4 meters on tank length.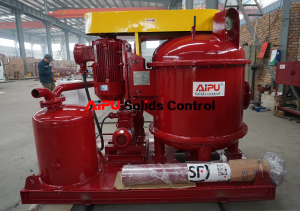 Why Choose AIPU Mud Agitator
Electrical motors and gear box sourced from China top manufacturer to keep sure electrical motor and gear box work steadily on jobsite.
Shaft length and impeller diameter can be customized to keep sure equipment meet client request and jobsite working application.
Good after sales service in over sea countries with stock spare part available.
Long time quality assurance for equipment.
Short building time for delivery to allow client have more time on decision and payment prepare.
Top brand of bearing and electrical component.