Mini Poor Boy Degasser Delivery to Site ?>
Mini Poor Boy Degasser Delivery to Site
Poor boy degasser is a necessary equipment on drilling site for drilling mud process, many clients ask us mini poor boy degasser for drill site but many of the degasser suppliers only supply degasser vessel diameter minimum 800mm and 5800mm height. AIPU specially design a mini poor boy degasser which can be separately stand away or fix onto a mud tank for fast transport. One client ordered 2 sets of mini degasser and delivery to Australia end of Jan, AIPU engineers just back from jobsite finished first time commissioning with good feedback.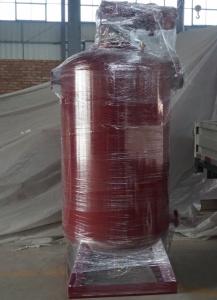 Mini Poor Boy Degasser Technical Specification
Degasser vessel diameter 500mm size, total height 2500mm that available for container delivery without lay down.
Mud flow capacity is 80 cubic meters per hour, 4" inlet pipe with flange connection, 5" outlet pipe with flange connection on vessel bottom, 5" gas vent line on vessel side.
Open tank with mini degasser can be supplied together with an open bottom. The tank size is 4 meters to 6 meters length for mud storage. A set mud transfer pump sit on tank skid for 80 cubic meters per hour mud flow.
Other than poor boy degasser, AIPU supply vacuum degasser can centrifugal degasser too. The degasser model and size can be selected as per jobsite requirement. Please email AIPU freely for solids control equipment inquiry or technical support.