Mini Mud Cleaner for Water Well Drilling ?>
Mini Mud Cleaner for Water Well Drilling
Water well drilling require shale shaker, mini mud cleaner or desilter for drilling mud recycling. Different with oil and gas drilling, water well drilling mud flow is less and mud treatment is easier. So mini mud cleaner is the ideal option for water well drilling mud treatment for good performance, small footprint and cost effective. The cleaner contains one set 10" cyclone for sand separation and 8 sets 4" cone for silt separation. Finally it's cut point reaches to 15 microns.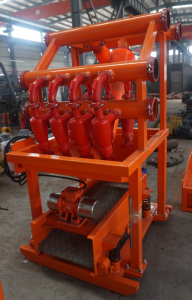 Water Well Mini Mud Cleaner
Mini linear motion shale shaker with 2 panels shaker screen with API 200 mesh wire. The mini shale shaker is the minimum size shaker and good design for water well.
1 set desander cone installed together with 6" mud inlet pipeline and 8" outlet pipeline.
8 sets desilter cone installed together with 6" mud inlet pipeline and 8" outlet pipeline.
Shaker deck is +2° degree angle to help a better vibration performance. Larger size shaker designed deck angle adjustment from -1 to +5° to suit different requirement.
2" ball valve supplied as an option for flexible mud flow capacity and pressure adjustment.
Electrical control panel fixed on shaker skid to control vibrator motors. Non-explosion proof standard for cost effective.
AIPU Solids Control is one of the top supplier for HDD mud recycling system including mini shale shaker and other equipment. All equipment is strictly built as per API Q1 quanlity control system and all equipment tested during and after manufacture. Please contact AIPU Solids Control freely for inquiry.