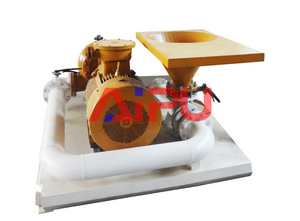 How to maintain and choose jet mud mixing? ?>
How to maintain and choose jet mud mixing?
The jet mud mixing device is used to mix mud and bentonite in drilling system. In order to make the installation and use of jet mud mixing device more efficient, following questions should be paid attention.
Choose suitable jet mud mixing device
In general, for most drilling equipment, one hopper is enough. And if the drilling fluid circulating displacement is larger than 4550 l/min, then we can consider using one hopper with capacity of 4550 l/min. In general, the rate of adding chemicals 2270-3030 L/min is enough.
To keep the distance between pipeline and hopper as short and straight as possible. Choosing sand pump and motor should be based on system requirements of pressure and flow rate. In all the work, venturi tube can work very well, especially when the system back pressure reduces the work efficiency of drilling fluid hopper.
Jet mud mixing maintenance
Use new and clean parts to reduce friction loss. Rinse the entire system with a clean liquid every time after work to prevent mud dry after blocking system. Specially pay attention to cleaning the import of the hopper, preventing the drilling fluid solid phase particle cementation. Otherwise, running status will be not ideal when using the funnel the next time.
The maintenance for other drilling equipments such as shale shaker, desander, desilter, mud cleaner, centrifuge etc. in solids control system, drilling fluid hopper should be kept regular maintenance and inspection. Drilling fluid hoppers are generally simple and easy to operate, but nozzles and the valves worn will affect their normal work. So the hoppers should be inspected once every 30 to 60 days, quick-wear parts such as nozzle, valve and casing brush should be reserved for standby application.
Hope this artical can be helpful to you and welcome to inquire other solids control equipments, such as shale shaker, mud cleaner decanter centrifuge, vertial cutting dryer, etc.