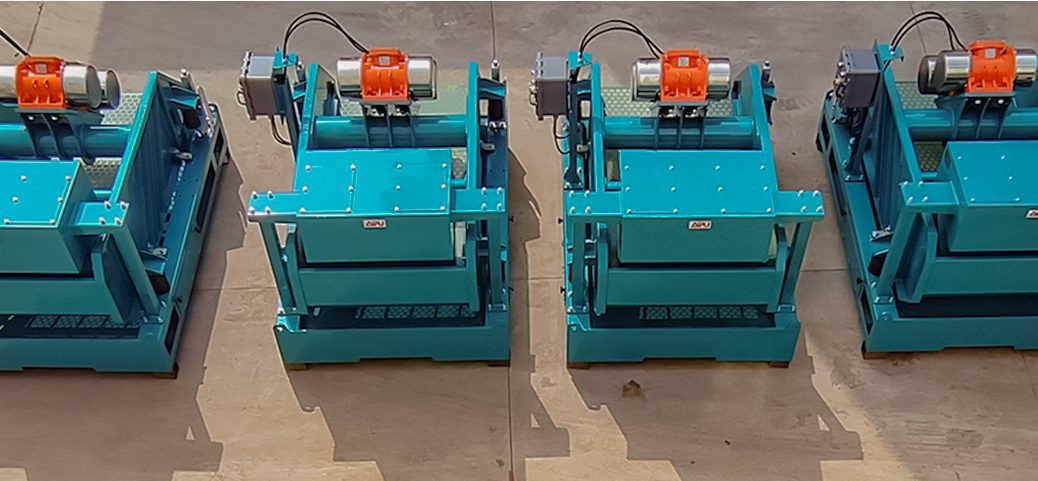 Linear motion shakers Hunter-D4 delivery ?>
Linear motion shakers Hunter-D4 delivery
Linear motion shakers is the 3rd generation shale shaker nominally. Nowadays, linear motion shaker is still popular with major clients. Linear vibration mode occupies an important and the majority of shaker mode.
Hunter-D4 shale shaker specifications
This model of shaker is developed and made by AIPU Solids control. Screen panel for this shaker is frame type. We can make them a steel frame panel or the composite frame panel. Single screen area is about 8ft². 4 panels of screen provides a large effective filtration area and leads a large flow rate
The angle range of Hunter-D4 shaker is from -1 to +5°. This design helps users to get optimal performance during their drilling, or mud process. The average flow rate of Hunter-D4 is up to 150m³/h. It may vary if fit different mesh screen or treating mud with different property. This lot of shakers are completely with feeder box. Vibrating motor output power is 2.3HP and suggest maximum strength is 7.5G.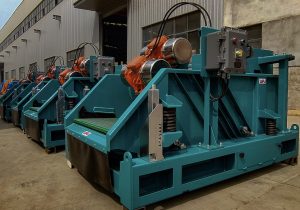 How about the general physical information of Hunter-D4 shaker? Its weight is about 2900lbs, and its overall dimension is about 94.5″x71″x63″
Other information of Hunter-D4 shakers
We know the shale shakers sometimes will work together as dual tandem or triple tandem shaker. Aipu provides the produce and manufacture of Hunter-D4 tandem shakers, too. According to clients' and users' actual demand, we will make shakers catering for practical requirements.
Standard Hunter-D4 shaker fits 2 set of same size vibrating motor as linear motion shaker. If there are clients requesting a different vibration mode we'll configure shakers differently. Besides Hunter-D4 shakers, other shakers are customizable.

Feedback of AIPU Hunter-D series shaker
This order of Hunter-D4 shaker is a repeat order from our regular client. They told us end user is very happy with our shaker and even feel surprised by its performance. Because our shaker price is rather competitive. Besides this client, there are also other clients express their satisfaction with our equipment.
Of course not only this model of shaker but also Hunter-MG shakers and other equipment. Please feel free to contact Aipu Solids Control for any assistance we can be of