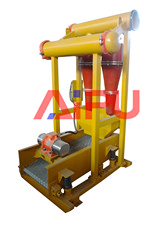 Do you know desander working principle? ?>
Do you know desander working principle?
The mud desander is a kind of drilling equipment that is able to extract foreign solids from gas, water or the current of the waste water.
When we use desander, it is necessary to how to operate it in a proper way. And how to use desander in a suitable way is also important to promote the quality and service life of the desander. Firstly, Let's know desander working principle. Once you understand desander working principle clearly, the operate methods  will be very easy to you.
The desander structure
Mud desander is the combination of hydrocyclone and shale shaker. The main body can be divided into two parts, the above part is the hydrocyclone and the bottom is the circular shale shaker. The vibration exciter is driven by a vibration motor to keep the whole screen box vibrate with a forward circular track.
Desander working principle
The mud produces pressure and speed when it passes the centrifugal pump, and flows into the hydrocyclone along the wall, the bigger solid particles along the wall of hydrocyclone sink spirally under the centrifugal force and gravity, and to be discharged from the bottom flow hole and fall on the under micromesh sieve for separation. The other mediums rise along the spiral of hydrocyclone, flow into the third class separation equipment desilter for a further cleaning treatment from the overflow hole.
The above procedure guarantees the mud can be well handled in the next equipments and decrease the workload.
The maintenance of desander
Of course, the maintenance of the desander is also included in how to operate mud desander properly. Knowing about desander working principle can promote us operate correctly. The maintenance is to prolong the using period of the machines.
Aipu can manufacture many types of drilling solids control systems according to the requirements of different drilling conditions. Aipu is well-known as a professional manufacturer and supplier of oil drilling solids control equipment in China. For any question please contact us or click here www.apmudequipment.com to visit our website.