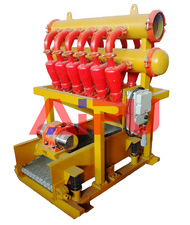 How to install and maintain desilter? ?>
How to install and maintain desilter?
Brief introduction for desilter
Desilter is composed of screen, distribution manifold and other components. Desilter is used as the third stage solids control equipment for drilling fluid solids control system.
The separation capacity of desilter is quite high and the size range of particle separated is extensive. The underflow port of hydro cyclones is like umbrella and sand can be deposited rapidly under pressure, reducing the probability of underflow port jams.
Installation and debugging of desilter
Desilter should be installed after the desander, namely on the no. 2 tank tail, smooth base must be placed.
Pipelines connecting the import and export of desilter and other equipments must be soft pipelines. And minimize the length and bend.
Tensioning degrees of screen should be appropriate. Screen after tension should be level off without wrinkles.
Maintenance and repair for desilter
The screen box must be removed and the bolt must be locked after the first time use of new desilter or before the first use after moving.
When stopped using for a long time, please clean cyclone with clear water circularly to prevent dry sand piling up inside the cyclone.
Vibration motor note a grease each 1500 ~ 2500 hours, and oil quantity is 5 ~ 10 ml for each bearing.
Shaker screens should be cleaned after downtime, lest sediment and dry solid to lead to desilter cannot be used normally next time.
Aipu solids control APCN series desilters have very good performance and we have got very good comments from our clients all over the world. The most common cone is 4" or 5", mainly to separate the solids in 15-47μm out from the drilling fluids. Under proper working pressure, the separation efficiency will be 90~95%. If you need to know more details on desilter, welcome to Aipu solids control.