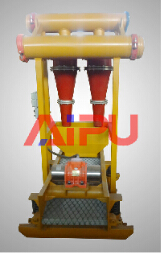 Hydrocyclone desander used in drilling mud system ?>
Hydrocyclone desander used in drilling mud system
Hydrocyclone desander for drilling mud
Hydrocyclone is also called cyclone separator. Desander and desilter are drilling rig equipments with a set of hydrocyclones that separate sand and silt from the drilling fluid. Desander is installed after shale shakers and before desilter. Desander removes those abrasive solids from the drilling mud which cannot be removed by shakers.
Desander with 10 hydrocyclones are able to remove roughly 50 percent of those solids within the 40-50 micron range at a flow rate of 500 gal/min, while desilter with 4 hydrocyclones are able to remove approximately 50 percent of those solids within the 15-20 micron range at a flow rate of 60 gal/min. Micro fine separators are able to remove around 50 percent of those solids within the 10-15 micron range at a flow rate of 15 gal/min.
Desander is typically positioned next-to-last in the arrangement of solids control equipment, with decanting centrifuge as the subsequent processing unit. Desander is widely used in oilfield drilling.
APCS series hydrocyclone desander
APCS series desander is the second class and the third class solid control equipment to treat the drilling fluid. According to the size of the cone diameter, it is divided into desander and desilter. Desander is used as the second-control equipment in drilling operation. We commonly used desander with 8'' and 10'' cones to separate solid-phase particle size 47-76μm  from the drilling fluids.
Some notes during using desander and desilter
Drilling fluid desander should be in drilling fluid shale shaker later as secondary solids control equipment, and desilter should be as a third level solids removal equipment.
In order to meet the requirements of the handle all drilling fluid, drilling fluid desander and desilter must be composed by several cyclone cone according to actual situation.
In order to guarantee the normal work of the hydrocyclone. Intake pressure must be maintained in the 0.25-0.35 MPa this range.
Desilter for rotational flow cone tube, pipe length, intake pressure should take larger value. Drilling fluid desander for rotational flow cone less, pipeline section, intake pressure for take smaller value.
Aipu is a professional manufacturer of solid control equipment in china. We will provide our clients high quality products at most reasonable price, at the same time we also sincerely offer the high level after sales service for any home or abroad clients. Welcome to Aipu solids control for more question.